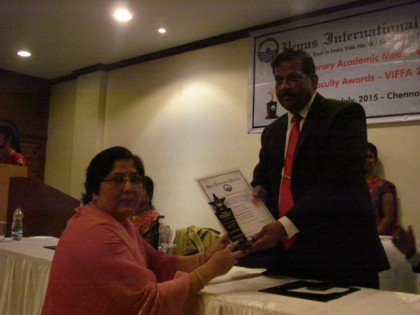 Mody University congratulates Dr. Meena Jhala (DEAN, College of Fashion Design & Merchandising) for notching up the OUTSTANDING FACULTY AWARD – 2015 (Fashion Design) by Venus International Foundation (VIFFA), a registered, non- profit organization based out of Chennai in India. It celebrates the profession of teaching as one of the noblest profession in the world by recognizing extraordinary teachers who inspire students to push the envelope and unlock their potential by dint of diligence and dynamism.
VIF organized an award distribution ceremony on 5th July, 2015 to felicitate professional teachers and academicians for promoting excellence in a vast spectrum of education, including Fashion. The attendees of the events included leading academicians and industry leaders from illustrious academic institutions across the globe.
Dr. Jhala is a renowned and revered member of the academic fraternity who brings with her a teaching experience of 33 years with reputed fashion design colleges across India & abroad including NIFT, PEARL, and Manchester Metropolitan & Nottingham Trent University, UK.
Her Scholarly pursuits include Ph.D. in 'Color Selection in Clothing as per Human Skin Tone' from Rajasthan University & a Post-Graduate Certificate for Higher Education from NTU, UK.
Mody University shares the belief of Dr. Jhala on women empowerment through professional education with Dr. Jhala.
Keeping the educational, moral and ethical values as a backbone, the university has commenced the College of Fashion Designing & Merchandising offering students a chance to enter the fashion industry with Graduation programmes in Fashion Designing and Fashion Merchandising. The college injects fashion acumen through post graduate degrees (MFD and MFM) and a one-year PG diploma in Fashion Merchandising beginning from July 2015.