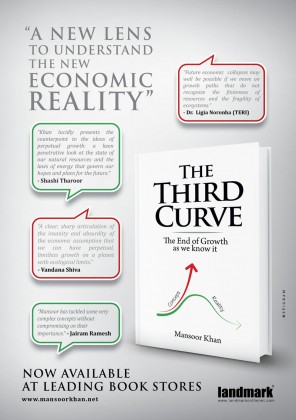 When you talk about World economy, you have to discuss over several subjects like growth, energy, globalization etc. It's a serious matter to worried about. And you need an expert who can give you the right idea with right information.
Faculty of Arts Science and Commerce of Mody University of Science and Technology, organizing a lecture on "A Disease called Growth – An Energy vs. Money Perspective of Why Our Planet is Dying and Why Our Economics is Collapsing" by eminent author Mr. Mansoor Khan, on 29th March, 2014, 3 PM onwards, in Lecture theatre 1, ABB Building. Mody University makes sure that these type of lectures by eminent personalities like him will enlighten the students and help them to gain exposure for a lifelong learning process.
Mr. Mansoor Khan, son of late filmmaker Nasir Hussain and cousin of popular film actor Aamir Khan, studied Computer Science at IIT Mumbai, Cornell University, and MIT Boston and then his career took a diversion. He moved onto directing four feature films – Qayamat Se Qayamat Tak, Jo Jeeta Wohi Sikander. In 2003, he finally moved to Coonoor, Tamil Nadu escaping from city life, and indulges in organic farming and other social causes. His first book, 'The Third Curve – The End of Growth as we know it' (2013) talks about world economy. In his book, he discusses about energy principles called Energetics. It examines the stark and unbridgeable disparity between the compulsions of exponential, economic growth and the energy limits imposed on us by the laws of geology, thermodynamics and the finiteness of the Earth.
Mr. Mansoor Khan has visited and delivered lectures at venues like IIM, Bangalore; ISB, Hyderabad; Morgan Stanley, Mumbai; Yahoo, Bangalore; Symbiosis Institute of Business Management, Bangalore; Foreign Services Institute, New Delhi; Bombay Chartered Accountants Association, Mumbai; Mumbai Lit Fest 2013 and Times Carnival Literature Fest, Bangalore 2014. Now he will visit Mody University to share his valuable knowledge and ideas with the students.
This lecture by Mansoor Khan will turn into an interesting session to students, which will motivate them and have an ample knowledge about energy and environment.