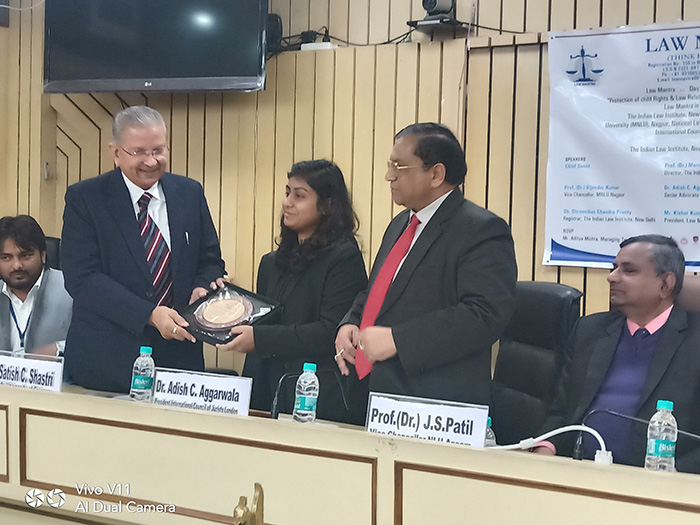 Prof. Satish C Shastri, Dean, School of Law was felicitated in One Day International Seminar on "Protection of Child Rights and Law relating to Women Empowerment in India" on 12th January, 2020 at the Indian Law Institute, New Delhi. The award was given by Prof. (Dr.) J.S Patil, Vice Chancellor, National Law University and Judicial Academy Assam.
There was a galaxy of legal luminaries present during the International Seminar, some of them namely: Prof. (Dr.) Manoj Kumar Sinha, Director, The Indian Law Institute, New Delhi, Prof. (Dr.) Vijender Kumar, Vice-Chancellor, Maharashtra National Law University, Dr. S.K Salwan, Vice-Chancellor, Apeejay Stya University, Gurugram, Dr.Adish C Aggarwala, President International Council of Jurists, London, , Prof. (Dr.) Yugal Kishore, Dean, ICFAI Law School, Dehradun, along with some foreign delegates from different countries.
Speaking during the event, Prof Satish Shastri deliberated that admirable efforts have been made by adopting various administrative and legal measures to elevate the position of women. Many praiseworthy pronouncements have also been made by the judiciary with regard to empowerment of women in India. He laid emphasis on various judicial pronouncements that have strengthened the position of women and have tried to implement the provisions of law in its true spirit. Some of the significant decisions relates to right to choice, right to privacy, right to abortion, right to rehabilitation, resettlement and compensation of the victims of crime were also discussed by him.