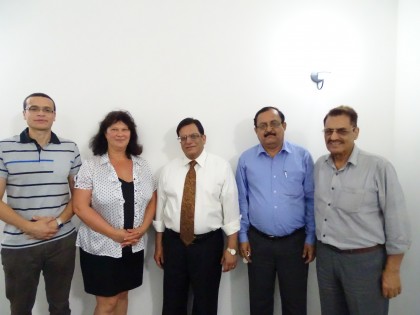 Delegates from Ecole Des Mines de Nantes, Nantes, France consisting of Dr. Annya Requille and Prof. Abdesselam visited visited Mody University of Science and Technology( MUST) at Laxmangarh, Rajasthan, Sikar on July 21st and July 22nd 2014 to explore the possibilities of further strengthening the Memorandum of Understanding between the two institutions. The two institutions are presently looking into the possibilities of sending B.Tech students of MUST to Ecole Des Mines de Nantes, for an integrated program of Undergraduate and Postgraduate degrees in Engineering, supporting the students to study in France through French scholarships, providing large number of internships to the students of MUST, collaboration programs in MBA and opening a joint postgraduate course in Environmental Engineering and Energy.
The first meeting was with Prof. J. Desai, Prof. N. K.  Joshi. Mr. Divya Deepak, All HOD's, and Prof. R. K. Shivpuri. In the meeting some important points were put forward and discussed. It was decided that two best students should be recommended to the French Embassy for support. The meeting had Nantes suggesting that almost all the students get internship and they will be provided all help for internship and later on for interview as well. Nantes decided that the average amount of internship is about 1000 Euros per month. To make things easy for the students, Nantes had planned to send Mody University the simulation code for purposes of exercises by the students. This way the students will get familiarized with the simulation code used at Nantes. Both institutions agreed for exchange of students from France. For proper understanding of the nuclear waste management course in France, they decided to teach Mody University students a basic chemistry course. In order to develop compatibility between the Nuclear Tech courses at MUST and Nantes, it was agreed to exchange the syllabii of the Nuclear Tech course with Ecole Des Mines de Nantes. The incompatibility needs to be worked out.
The next meeting was with the Faculty of Management studies (FMS) which took place on 22nd July. The meeting took place with the Dean, FMS and all the faculty members where they put forward many interesting ideas and took some important discussions. FMS is interested in establishing a collaboration program in teaching MBA with Ecole Des Mines de Nantes with one year at MUST and one year at Nantes. For evaluation of Ph.D thesis, Mody University needs examiners at international level. For that, names of distinguished faculty were proposed in the meeting. It was decided to explore the starting of a course in Environmental Engineering and Energy in collaboration with Nantes.
It must be mentioned here that Mody University and Ecole Des Mines de Nantes have already signed a MOU in last year and several postgraduate students have already interned at Nantes. This partnership will surely help the students to gain global exposure for academic excellence and make the collaboration more stronger.