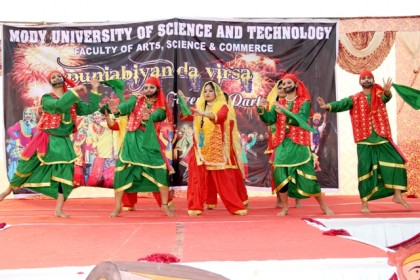 Farewell is a time when your face smiles but soul cries. A time when fear comes into your mind about leaving the known world and stepping into a new world. A time when you say thank you to everyone and sorry for your mistakes. A time to celebrate for the last time in the university. A time to say good bye but your heart fights with it-because it does not want to leave.
Richard Bach said, "Don't be dismayed by good-byes. A farewell is necessary before you can meet again. And meeting again, after moments or lifetimes, is certain for those who are friends". Believing on this thought, Faculty of Arts, Science and Commerce 2nd year students of Mody University of Science and Technology organized a farewell function for the Under-graduate and Post-graduate passing out batch on 26th April, 2014, to make their last day in the university little special and wish them for their bright future.
With a Punjabi theme, the event aptly was entitled as "PUNJABIYAN DA VIRSA", which means "The Heritage of Punjab". During this programme, students beautifully presented the culture of Punjab with traditional dance and drama. The various cultural programmes of the event concluded at the university campus reflected the rich and colourful traditions of the country. The event reached its climax with the declaration of Ms. Farewell and other titles. BBA students were thrilled when BBA 3rd Year student Ms. Nehal Tyagi was announced Ms. Farewell. BA 3rd Year student Ms. Puja Jain was declared as Ms. Personality and Ms. Disha Chodhary, BCom (Hons.), 3rd Year was adjudged the Lady with the Best Attire.
With an oath to change the scenario of women education in our country, Mody University always tries to serve the thirst of knowledge by providing quality education and learning resources. Advanced technological lab, resourceful library, vast collections of journals and magazines, educational tours etc. contribute to reach towards excellence. The university also indulges their students into creative fields by arranging and making them participate in various cultural events and competitions. In addition to these, the university always tries to give the best opportunity to the students to explore and experience the professional world, which can be proved useful for their future endeavours.
Collecting blessings and love from the teachers and friends, on this very day FASC final year students ended their journey in Mody University and took a step for the next journey towards a new world, with dreams and desires. The university wishes all the passing out students for their successful future.
The Farewell Function culminated with a Cake Cutting Ceremony and a luxurious dinner.