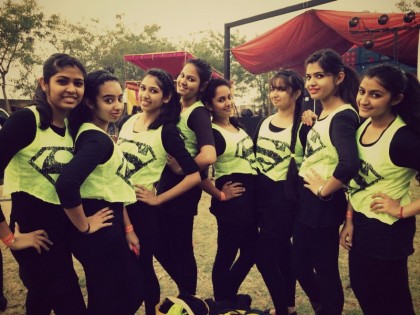 Cultural fest gives us a chance to introduce to new talents of our country and bring it to the limelight. Kairos 2014, the maiden fest of National Law University, Delhi also played an important role in this field. It features a variety of interesting events covering a wide spectrum of interests, including debate, music, dance, performing arts, fine arts, literary, and legal competitions. NLU, Delhi invites all top universities in India for participation in the fest.
College of Law and Governance students of Mody University of Science and Technology also participated in the fest. They actively showed their talents in every cultural and academic section of the fest. In Parliamentary debate section Shreya Goswami and Prachi Jain left a strong impression. Beside the academic debate Shreya Goswami also participated in poem writing competition. Mody students came up with excellent ideas in creative sections, just like they had showed their talents in academic sections. Arjoo Tailor and Kadambari Shekhawat expressed their thoughts by applying colours on the face, in face painting competition. Pragati Singh and Chishtha Upadhyay presented their talents in western solo dance competition. The group dance by Mody students, "Cloud 9" remain the attraction of group dance competition among various Law Colleges and Universities. On the last day of the fest, Komal Verma and Chishtha Updhyay made the event more glamorous in bollywood solo dance competition.
Mody University always tries to indulge their students to explore their talents and give exposure to it.  Believing in learning beyond classroom, they frequently organize cultural programmes, educational and recreational tours, competitions in various fields to brush up their creativity and encourage them to excel in their desired fields.
In Kairos 2014 they got another chance to present their talents and creativity by participating in various competitions. It turned out to be a journey full of fun.