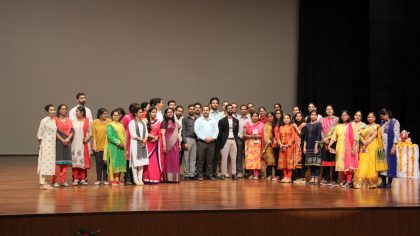 A session on motivational speaking was held at Mody University in Laksmangarh today. The theme, "Better than Normal" was a part of the motivational speech delivered by Hitesh Ramachandani, a person born with 'Cerebral Palsy'. Hitesh, now 25 years old was born with the condition which impacted his movement and ability to speak. He defied the prognosis that he would not survive for more than 24 hours following his birth. A Singaporean based motivational speaker, Hitesh aims to inspire 50 million people by the age of 50 to live a "Better than Normal Life".
Speaking during the session, Hitesh says, "No matter how many obstacles you face inlife, you can get up."At the end of the session, the girls of Mody University have a plethora of questions ranging from the importance of struggle in life to a need of special school for the differently abled students. Hitesh opines that in order to set one standards high, one should go through many struggle in life. Quoting from his book, "Better than Normal"Hitesh says, "Life is like a ball, the harder you hit the ground the higher you will bounce!''.
Talking on the need for a special school for the differently abled students, Hitesh, who is also a Paralympic athlete says that parents should first send their students to normal school and if they can't cope up, and then the child should be sent to a special school."
The motivational session was a part of Hitesh on-going India tour. Hitesh has previously given speeches at various universities in India namely Mumbai, Delhi, Dehradun.