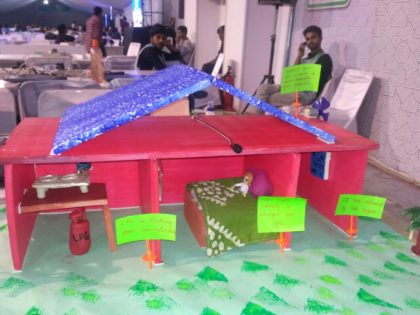 It was a proud moment for Mody University when two teams from College of Engineering and Technology (CET), Mody University of Science and Technology (MUST) were placed among the top ten best teamsin the world's largest coding carnival.
Held in Jaipur recently, Green-a thon, or the Green Hackathon, was a 36 hours non-stop coding challenge organised to encourage young problem solvers and innovative think tanks to create and implement new ideas for a more sustainable future. Termed as Hackathon 4.0, the winners of the challenge get anexclusive opportunity to work with the Government of Rajasthan. The six girls, Sneha Agarwal, SonaliSachdev, Shailja Barsaiyan, Twinkle Baradia, Muskan Singla, Navya Mathur were divided into two teams, comprising of three girls each.
The teams, In For Kill and Smoke Green,displayed their skills with great valour and women power. Interestingly, the teams of MUST were the only all-girls team participating in the event.
Talking about the event, Professor P.K. Bishnoi, said, "I am extremely elated on our students' achievement. The platform was a great opportunity for budding technocrats. All six students prepared very hard for this event. I and my students are thankful to Dr. V.K Jain, Dean CET for his initiation and motivation."
Participants from various colleges and organisations, like Delhi Technological University- Delhi, Arya College – Jaipur were present with their unconventional and ingenious 'green' idea for their start-up business.
The challenge was open to participants from across the country.A total of 260 teams amounting to a total of over 5000participants in the event.