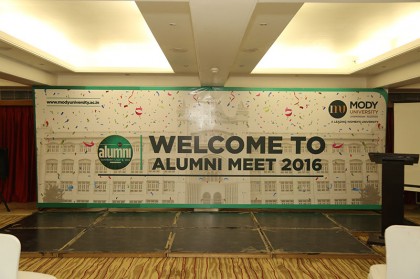 The first Alumni Meet of Mody University, Lakshmangarh Rajasthan was held at Hotel Lemon Tree Premier, Jaipur, on July 09, 2016. The Meet was attended by Alumni (past students), Senior Management, Faculty and Staff Members of the University.
The Alumni Meet started with the welcome address by Mr. Sudhanshu K. Sinha, General Manager, Career Development Centre, which was followed by address of Prof. Suresh Advani, President, and Deans of all the Colleges of Mody University. They spoke about the importance of an Alumni Association and how it will be beneficial for both the alumni as well as the University.
All the distinguished speakers addressed the present alumni and informed them about the development and recognition of the University in recent past and the new associations established with the Foreign / Indian Universities and Industry giants. They also informed about the Industry sponsored Laboratories in the campus and different Certifications run by them along with their benefits. President, Prof. Advani, invited alumni to the Mody University campus and asked them to interact with the present students to advise them about their future goals and educate them regarding Industry requirements. Associate Dean CET spoke about the Internships of students at Foreign research labs and Universities and also talked about the extraordinary achievement of 100% placements of B. Tech. students, passing out in the year 2016. He also indicated about the two new B. Tech. courses introduced this year in collaboration with IBM, in the area of Computer Science and Electronics and Communication Engineering. GM CDC, Mr. Sudhanshu K Sinha talked about placement statistics, new companies and the improvement in the status of the University in their esteem. He also spoke about the internships being offered by  the Industry giants, like Amazon, Honeywell, Hewlett Packard, Oracle, Ericssonon a stipend ranging from Rs. 15, 000 per month to Rs. 40, 000 per month, followed by their Pre Placement Offers (PPOs).
Though the Meet was organized at a very short notice, it was attended by a number of alumni from CET, COBMEC AND CASH. A few alumni were accompanied by their Spouse and their parents and children, also.The alumni had come from various parts of the country such as Alwar, Bengaluru, Bikaner, Gurgaon, Jaipur, Kanpur, Udaipur, Mumbai.
The alumni recollected their experiences of stay in the campus and the memorable moments they shared with the friends, faculty and staffs. They also shared their professional experiences and felt that reunion is a great time for the past students. The alumni expressed their heartfelt gratitude towards the faculty and staff members of the University for organizing the Alumni Meet. All the present alumni were felicitated by the University which was followed by a grand dinner. In the closing ceremony, Ms. Priyanka Jain, Asst. Professor, delivered the Vote of Thanks.