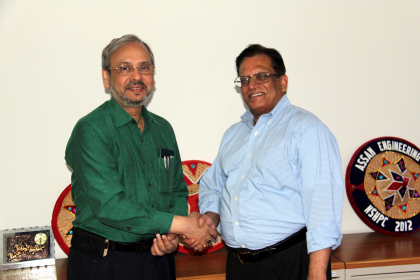 Dr. Gautam Biswas, Director, Indian Institute of Technology Guwahati and Dr. Vishwanath Prasad, President of Mody University of Science and Technlogy in  Lakshmangarh, Rajasthan have just signed a Memorandum of Understanding to promote and enhance the scientific and academic interaction between IITG and MUST in mutually beneficial areas. Both institutions have agreed to exchange of academic personnel as adjunct faculty between IITG and MUST as well as travel of academic personnel and students between the two institutions.
IIT Guwahati, the sixth member of the IIT fraternity, was established in 1994. Presently, the Institute has eleven departments and three inter-disciplinary academic centres covering all the major engineering, science and humanities disciplines. Within a short period of time, IIT Guwahati has been able to build world class infrastructure for carrying out advanced research and has been equipped with state-of-the-art scientific and engineering instruments. IIT Guwahati's campus is on a sprawling 285 hectares on the north bank of the river Brahmaputra around 20 kms. from the heart of the city. With the majestic Brahmaputra on one side, and with hills and vast open spaces on others, the campus provides an ideal setting for learning.
Mody University of Science & Technology is a full-fledged, self-financed Private University, established in 1989. Adorned with greenery, Mody University has a sprawling 265 acres campus with a safe and serene environment and is a university committed to women's empowerment. The university imparts a world-class education, enriched with traditional values and gives the perfect global exposure to the students.