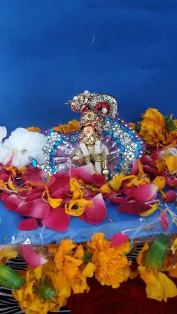 Janmashtami, a festival of joy and happiness is celebrated grandly among the Hindus in India. On this special occasion the most adorable, mischievous son, the most romantic lover, the most compassionate friend- Lord Krishna was born. The devotees of Lord Krishna observe fast for the whole day and night, worshipping him and keeping vigil through the night while listening to his tales and exploits, recite hymns from the Gita, sing devotional songs, and chant the mantra 'Om namo Bhagavate Vasudevaya'.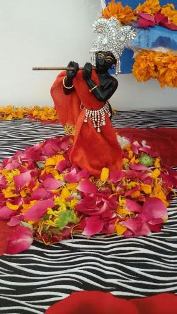 Like every year the students of the first year of MBA hosted Janmashtami Celebration on August 18 , 2014 . Miss Amanpreet was the   co-ordinator of this grand event on behalf of the COBMEC students.​ It was a striking occasion for them as the senior students were all set to encourage their juniors to make the event a magnificent one. The juniors have not only put their best efforts to adorn Lord Krishna with beautiful crown and silk dress but also came up with a beautiful flower decoration. The ceremony of 'Dahi Handi' was the main attraction. During this ceremony a large earthen pot is filled with milk, curds, butter, honey fruits etc. and is suspended from a height between 20 to 40 feet. Students formed human pyramid to reach and break the pots.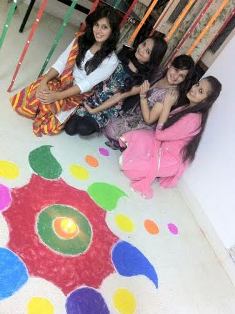 Deans of different faculties   as well as the faculty of COBMEC were invited to participate in the celebration. The festival was also a time for group singing and dancing, in both the folk and the classical traditions. Student of COBMEC adorned different traditional dresses and gracefully performed in the occasion. Dr. B.S.Rathore, one of the faculties of Mody University conducted the Aarti at 8 pm and sweet Prasad was distributed among all the students and the faculty members.
The entire day was spent with a lot of grandeur. The whole atmosphere was filled with Krishna Bhakti and everybody present there had a great time.