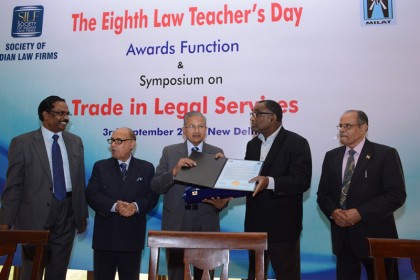 College of Law and Governance has been selected and conferred with the best Institution Award for maintaining the' Excellent Standards in Academic and Extension Activities' for the year 2016.The selection has been made out of more than 1400 (Fourteen hundred) law Colleges and Universities including National Law Universities in India. The jury for the selection was headed by the Former Chief Justice of India.
The award function was held in Hotel Hyatt Regency, New Delhi on Sept. 3, 2016. Hon'ble Mr. Justice A. K. Sikri and Justice Jasti Chelameswar, judges of the Supreme Court of India were present in the award ceremony.
Our award was given away by Hon'ble Mr. Justice Chelameswar. We were also given one' citation' praising the standard of education and social context learning the law, and one 'Brass Plaque' mentioning about the award we received. The citation also appreciates revered Sh. R. P. Mody ji, Chairperson, Mody University for his efforts towards  educational empowerment of women with world class infrastructure. Hon'ble Justice also appreciated his effort for women empowerment, that too, in this remote area of the State of Rajasthan. (Photocopies of the both are enclosed. Kindly see the attachments.)
Padmashree Prof. Madhav Menon, Former Vice-Chancellor of the National Law School of India University, Bangalore and National University of Juridical Sciences, Kolkata and Sh. Lalit Bhasin, Chairman of the Society of Indian Law Firms, New Delhi graced the occasion. Representatives and heads of the reputed law firms of India, Vice-Chancellors of various universities, Judges and senior and renowned advocates of Supreme Court and High Courts were present in the award ceremony.