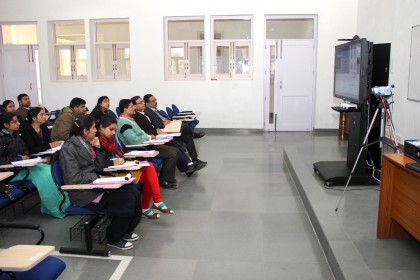 "Anything that carries information can be considered a signal and any physical device or computer program can be considered a system if the application of a signal to the device or program generates a new signal".
Well, only theoretical study like this in classes won't take you far unless it is supplemented by interactivities and workshops. And at Mody University of Science and Technology we strive to bring the best out of our students.
A two week ISTE main Workshop on "Signals and Systems" was held from 2nd to 12th January, 2014 in ECE Department of Mody University. It was an important initiative taken by IIT Bombay and IIT Kharagpur to work with Engineering Colleges in the country to enhance the teaching skills of our faculty colleagues in core Engineering and Science subjects. It was attended by FET faculty, staff and students from Mody University of Science and Technology and external participants as well. The workshop was designed primarily for Electronics & Communication Engineering and Electrical & Electronics Engineering faculty, concerned with evaluating impact of Signals & Systems. Participators attended live lectures given by IIT faculty at a remote center close to their own college, and also attend tutorial and lab sessions conducted in the same centers. The lecture transmission and live interaction took place in distance mode using the AVIEW technology through internet, at the selected remote centers across the country.
This initiative was a part of the 'National Mission on Education through ICT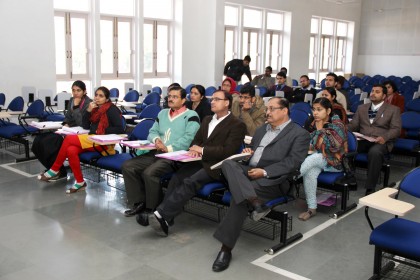 (Information & Communication Technology), which is supported by MHRD. Faculty coordinators were appointed at each remote centre to handle the technology infrastructure and other operational logistics. Additionally, for each workshop, there was a faculty, assigned as Workshop Coordinator for that subject, who helped in conducting laboratories and tutorials at each center.
The main objective of the workshop was to train the participants by imparting knowledge about the subject so that by adopting a holistic approach they can gain enough exposure.
Apart from theory sessions, the workshop also included Tutorial activities, Group sessions Scilab Training, Moodle Quiz to make it more interactive and interesting.
Syllabus followed in the workshop was:
• Introduction to Signals and Systems.
• Properties, Definitions and Examples of Signals. 
• Continuous Time and Discrete Time Linear shift Invariant Systems. 
• System responses, Fourier series, Fourier Transform, DTFT and DFT. 
• Laplace transforms, Eigen functions, Poles and Zeroes.
• Z-transforms.
• State-space analysis, state transition matrix.
• Sampling Theorem.
• Application of Signals and Systems in Filtering and Communication.
• Advanced topics: Short-time Fourier Transform and Wavelets
This workshop was completely funded by the National Mission on Education through ICT (MHRD, Government of India), and no course fee was charged for participation. Remote Centers were being funded by providing food on each day of the workshop, and for accommodation, wherever available, for limited number of outstation participants.
Participants from Mody University were Vaibhav Neema, Suverna Sengar, Kapil Gupta, Suman Nehra, Ranjana Thalore, Shruti Suman, Nidhi Pandit, Vikas Raina, Krishna Gopal Sharma, Tripti Sharma, H.K. Nigam, Hare Krishna Nigam, Kavita Mehta, Sudhir Y Kumar, Sunita Kumari, Ritu Tak, Uma Nirmal.
With this workshop, the faculty members along with the students got a fair share of how to apply the knowledge and making Mody University yet again a university which goes beyond academics to make the students competent in every field.
Workshop Programme
Date
Time
Event Schedule
02.01.2014 (Thursday)
9:00 AM to 9:30 AM 
 Inauguration
9:45 AM – 01:00 PM (Tea Break: 11:15 – 11:30 AM)
Introduction to Signals & Systems(VMG)
02:00 PM- 04:30 PM ( Tea Break: 03:00- 03:15 PM)
Tutorials (Team, VMG)
04:30-05:30 PM
Interactions (VMG)
03.01.2014 (Friday)
09:30 AM – 01:00 PM (Tea Break: 11:15- 11:30 AM)
LSI Concepts, LSI Systems characterizations (VMG)
02:00 PM -04:30PM (Tea Break: 3:00- 3:15 PM)
Tutorials (Team, VMG)
4:30 PM – 5:30 PM 
Interactions (VMG)
04.01.2014 (Saturday)
9:30 AM – 1:00 PM (Tea Break: 11:15- 11:30 AM)
LSI Systems- Causality and stability, Complex exponential and sinusoidal inputs (VMG)
2:00- 4:30 PM (Tea Break: 3:00- 3:15 PM)
Tutorials (Team, VMG)
4:30- 5:30 PM
Interactions (VMG)
05.01.2014 (Sunday)
Rest Day
06.01.2014 (Monday)
09:30 AM – 01:00 PM (Tea Break: 11:15 – 11:30 AM)
Fourier Transforms (VMG)
02:00 – 4:30 PM (Tea Break 3:00 – 3:15 PM)
Scilab Simulations (Team,VMG)
04:30 – 05:30 PM
Interactions (VMG)
07.01.2014 (Tuesday)
09:30 AM – 01:00PM (Tea Break: 11:15 – 11:30 AM)
Laplace Transforms (SSG)
02:00 – 04:30 PM (Tea Break: 03:00 – 03:15 PM)
Tutorials (Team, SSG)
04:30 – 05:30 PM
Interactions (SSG)
08.01.2014 (Wednesday)
09:30 AM – 01:00 PM (Tea Break: 11:15 – 11:30 AM)
z- Transforms (SSG)
02:00 – 04:30 PM ( Tea Break: 3:00 – 3:15 PM)
Tutorials ( Team SSG)
04:30 – 05:30 PM
Interactions (SSG)
09.01.2014 (Thursday)
09:30 AM- 1:00PM (Tea Break: 11:00 – 11:15 AM)
Theory of Sampling (SSG)
02:00 – 04:30 PM (Tea Break: 3:00 – 3:15 PM)
Tutorials (Team, SSG)
04:30 – 05:30 PM
Interactions (SSG)
10.01.2014 (Friday)
09:30 AM- 01:00 PM (Tea Break: 11:15 – 11:30 AM)
Applications and Research domains of Signal and Systems (SSG)
02:00 – 4:30 PM (Tea Break: 3:00 -3:15 PM)
Scilab Simulations
04:30 – 05:30 PM
Interactions (SSG)
11.01.2014 (Saturday)
Full Day
1- hour Moodle Quiz in 10 batches. When participants are not taking part in quiz, they will do Scilab simulations.
12.01.2014 (Sunday)
09:30 AM – 01:00 PM ( Tea Break: 11:15 – 11:30 AM)
Wavelet Transforms (VMG)
02:00 – 3:30 PM
Valedictory