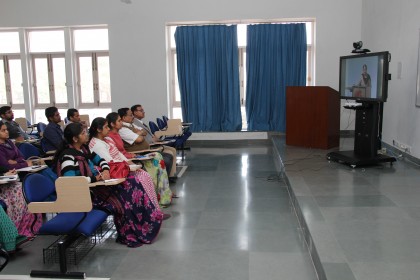 As Elbert Hubbard said, the teacher is the one who gets the most out of the lessons, and the true teacher is the learner. When it's a duty to create established professional and shape a better society, you should educate yourself more and more. Teachers can change lives with just the right mix of chalk and challenge. Believing in this, Mody University of Science and Technology supported NITTTR to conduct a faculty induction programme in the university campus.
The National Institute of Technical Teachers Training and Research (NITTTR), Chandigarh conducted a five days Faculty Induction Training Programme from Feb 24 to 28, 2014 using Information and Communication Technology (ICT) in association with Dept. Of Faculty of Engineering and Technology of Mody University and sponsored by MHRD/AICTE, Govt. of India. Prof. P.K. Tulsi of NITTTR, Chandigarh and Dr. Sudhir Y Kumar of Dept. of FET, Mody University coordinated the programme.
This programme was organized to enhance the teaching skills among the teachers of the University. Mody University always encourages self education more. To help students to find their talents hiding into themselves, a teacher should enhance his/ her ability too. An excellent vision only can make a future leader. University faculty members are always ready to grasp knowledge and share it with students. 33 faculty members from different courses like ECE, EEE, CSE, IT, MCA and ME participated in this training programme.
Prof. J.V. Desai, Dean, FET of the University was invited as the chief guest in the inauguration of the programme. The inaugural function started with lighting candles before the Goddess Saraswati. Prof.(Dr.) M. P. Poonia, Dr. S.S. Pattnaik, Dr. P. K. Tulsi, Prof. S.P. Bedi Dr. AB Gupta , Dr. J.S Saini and others faculty members from NITTTR Chandigarh delivered lectures on Advance learning using ICT. Some others institutes were also linked through ICT for the live telecast of the programme. The programme came up with a combination by using communication technology and media for knowledge dissemination and interaction among various centers.
Prof. (Dr.) M.K. Jha, Head of ECE/EEE Dept. was present in the Valedictory function on 28th Feb, 2014, as a chief guest. Mr. Sundhansu Sinha, GM (CDC) of the University and his team of Placement Cell were invited as the industry experts in the panel discussion session.
Every faculty members were participated in the programme enthusiastically and gained knowledge on innovative teaching and learning methods. Mody University is looking forward to conduct programmes like this in future too.