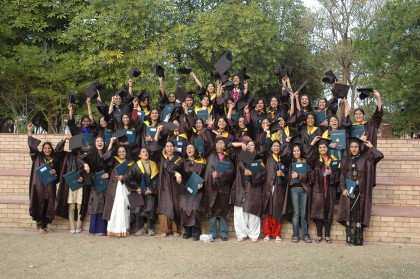 A moment to celebrate the rich past and an advent of a promising future. That's what Foundation Day Celebration was all about at Mody University of Science and Technology. The past as the University honours the leader who has dreamt of this institution and the future as it portends great things for the students and the university. The day was filled with fervour, zest and enthusiasm and an extravaganza of activities were conducted to culminate the five-day long celebration.
The Celebration, which started from 22nd of January and lasted till 26th of January, has every year the immense participation from the different faculties where they organize their convocation ceremony and cultural programmes to add to the merriment.
This year on 25th of January the Faculty of Law came up with a unique and meaningful concept for the cultural programme-"Colours of Life".
It is for the colours that every creation on this earth has its meaning. Colours are the reason we feel the vibrations of life. These splashes of hues are the most fulfilling elements in our lives. They speak a language to us…what we are, our feelings-they are the metaphors we live by. Colours play a silent role in every moment of our lives…silently motivating us leading to our aspirations.
Mody University has always gone beyond books and made it a point to instil the true values of life along with the quality education it imparts. The Faculty of Law department tried to depict different aspects of colour with their cultural programme, which showed the hard work of students and faculty that they have put into the event to make it memorable.
Every colour has its own significance and has different emotions attached to them. The colour of sunshine, yellow is the hue of joy and cheerfulness. The colour of sky and sea-blue denotes depth…a colour of tranquillity and calmness. Red is a very emotionally intense colour blended with huge passion. Having a strong emotional correspondence with safety, Green denotes freshness…the colour has in itself a vibration of life. The programme ended with a beautiful vision of white-the colour of purity and goodness, being tainted with all the colours!
The programme over all painted a beautiful picture in the young minds which made them look at life differently…which gave the students a new definition of colours altogether.