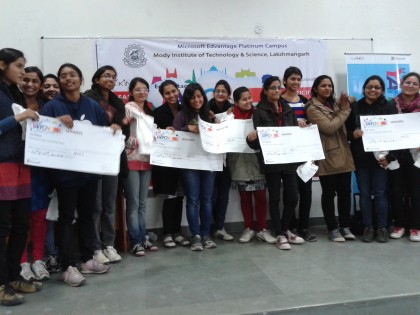 Commendable news for Mody University of Science and Technology!
The alliance between Mody University and Microsoft has accomplished with yet another Training Program for the FET students. The Career Development Centre of Mody University had arranged a Marathon Session of Certification and Apps Development event in association with Edukinect, proudly known as the Educational partner of "Microsoft". This event took place at FET of Mody University from 15th January to 22nd January, 2014.
They organized a 24-hours non-stop mega App Development Event, "YAPPON" where more than 100 FET students participated by forming 26 groups. The event was thought provoking and the students were absorbing every single part of it. During this course the students uploaded 25 Apps on the website of Microsoft which were developed by them exclusively.
The students were judged by a panel of judges from Edukinect among which three best teams were awarded with certificates of distinction and cash prizes of Rs. 5000, Rs. 3000 and Rs. 2000 respectively.
Under the Edvantage program of Microsoft, where FET students learnt the skill of developing Applications (APPs) also appeared in two MOS and one MTA Certification tests held at the Prometric Center of Mody University established by Microsoft. Impressively 102 students cleared the tests and were awarded with certificates. This was an overwhelming result.
Microsoft has earmarked four days in the month of January/February, 2014 when their experts will visit Mody University and clear the doubts of FET students and monitor the progress of Apps developed by them. It is a part of their six weeks Apps Development program, which they started with the "Boot – Camp" on 14th January 2014.
With this event, the students got an opportunity to apply their knowledge on such a huge platform like Microsoft and thus making Mody University feel privileged about it.