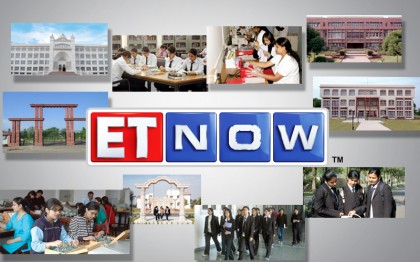 Mody University of Science and Technology, a university exclusively dedicated to women education, is featured exclusively by ET Now, which will be shown on 24th May, 2014 on 6 p.m. The show will cover the history of the University, its vision and mission to change the scenario of women education in India and its world class infrastructure. It's definitely a moment of glory for Mody University to be featured in ET Now.
The main highlight of this show- the university adorned with a green 300 acre campus, which has taken a revolutionary step for women's education and which provides a feeling of 'a home away from home' along with induce academic expertise rooted to the Indian culture. It redefines the education with traditions and spiritual values.
After visiting a desert in 1988, Mr. Rajendra Prasad Mody dreamt of building an oasis. An oasis of education for women of the country. The exclusive show will bring into limelight his continuous effort and commitment in building an ideal university for women where they can get the best opportunity to learn, create and groom in a spiritual environment. The coverage will show how a small school has grown to an established university with a true fusion of world class infrastructure, educational facilities and spiritual values.
Mody University is the perfect ground for women to foster herself with advance education, professional training and expert guidance and make herself strong enough to stand at par with men in every field and compete with them, because they are the women of today. Mody University imparts quality education to the students by providing educational programme structure, highly technological labs, resourceful library. Expert faculty members are there to train them professionally and encourage them explore the world and shape up their career in their desired field. It's a gateway to global opportunities and educating empowering women.
The show covers it all- how the university encourages all the students indulge into sports, art, drama and all the other co-curricular activities which helps them to realise their talents. They organize various cultural shows and talent hunts to find the best out of them. They go for industrial tours, excursion and academic events to imbibe the knowledge beyond classroom and to experience the professional world. In addition to these, Mody university offers foreign language courses to enhance global career opportunities.
"Education is a meditation that you achieve through knowledge". The ET Now exclusive coverage will bring into frame how education here blends with spirituality and meditation in the tranquil ambience of Tapovan, where students can meditate and reinvigorate their inner self through Yoga. It's a place where the purity of nature and the vibration of continuous recitation of 'Vedic Mantra' creates ripple in their hearts and sanctify their soul.
Do not miss the opportunity to experience the world of Mody University with the exclusive coverage by ET Now.