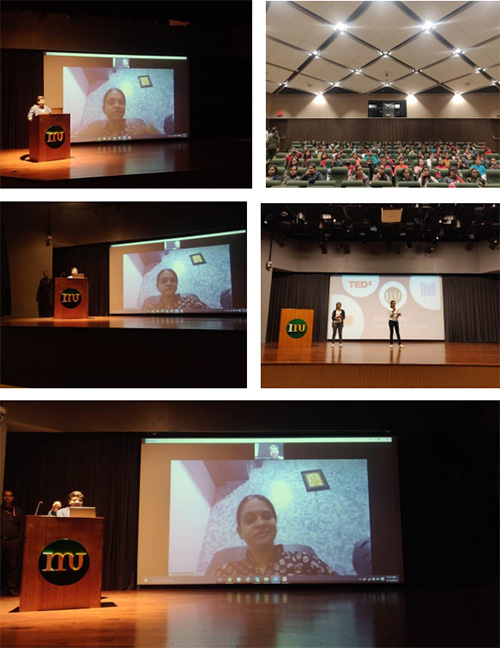 The TEDx Society of Mody university organized its inaugural event which was the TEDx Orientation Programme. It was held on 15th November, 2019 at 11 AM in
Swami Haridas Sabhagar (Mini Auditorium). It was an interactive session via digital addressal to students by Ms. Annapurna A who is the Behavioral Assessor Founder and CEO, Emotionalytics, earlier with Inspirage as HR Director. Currently, she is also Co-Chairperson, Women Economic Forum, ASSOCHAM, Bangalore.
She proved to be the perfect guest speaker for the inaugural event as she is already a TEDx Speaker. She elaborated the meaning of TED for the students, which stands for technology, entertainment and design. TED, a nonprofit organization, was started by Richard Saul Wurman in 1984. TEDx on the other hand is run independently and helps share ideas all around the world, as its tagline goes, "Ideas Worth Spreading". She also enlightened the audience by sharing her invaluable experience about psychic powers.
Dr. Anirban Sengupta, Dean, School of Business was the moderator for the program and made the talk with Ms. Annapurna A much more engaging. The mentors of the TEDx Society, Dr. Suresh Kumar and Dr. Brajraj Singh, were also present for the program along with other faculty members of Mody University.
Afterwards, the organizers, Ms. Jaya Mishra of School of Law, and Ms. Kshipra Bhandari of School of Business, gave a compact presentation about TEDx. They spoke about the origins of TED briefly, then moved on to explain the students what the society will do, and hopes to achieve. The TEDx Society was formed with a motive to help the students of Mody University expand their knowledge, and to perpetually stimulate them by the means of discussion and addressal of issues that are peculiarly hidden in their daily lives. Its purpose is to inspire students to broaden their emotional and intellectual horizon and explore new insights with the changing world. They also asked questions to the audience, and whosoever responded correctly received chocolates.