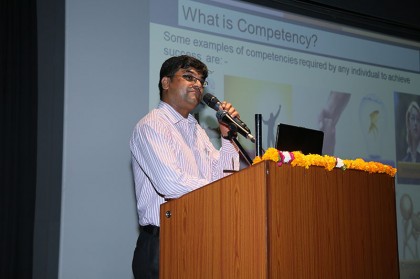 The induction program-2016 (ABHINANDAN-2016) for the newly admitted students of CET was organised in the Mini-Auditorium of the Mody University, Lakshmangarh. All the students received a warm welcome from the college staff, faculty members in a traditional manner and by presenting them with a rose bud by senior students. The auditorium was completely occupied by enthusiastic students and parents.The programme started with the lightning of lamp and SaraswatiVandna.
Prof. V.K.Jain, Dean, CET presented the inaugural note and gave a very motivating lecture asking the students to identify their talent and excel in the same as they are about to start the new journey of their life.
Then a complete brief about various departments was given by respective HODs and incharges so that students became more acquainted with the system of the college.All the expectations, rules and regulations were clearly explained.They shared their academic experiences to show them the path they need to adopt in order to become successful engineers.
GM, CDC highlighted the students regarding 100% placements and multiple offers bagged bypass out batch. He also informed the students about various trainings and collaborations of the university and CET.
The vote of thanks was proposed by Mr. Atul Kumar, coordinator, first year and afterwards refreshments followed.
Induction day programme was well received both by Students and Parents.