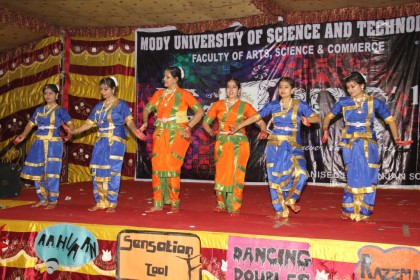 As Charles Mingus said, "Creativity is more than just being different. Anybody can plan weird; that's easy. What's hard is to be as simple as Bach. Making the simple, awesomely simple, that's creativity". Believing the fact, Mody University of Science and Technology always tries to impel the students into creative world and help them to find out their inner talent.
The cultural society of Faculty of Arts, Science and Commerce, Gunjan organized a two day long cultural event 'Tarang', on 18th and 19th April, 2014. All students were divided into four teams –
Red– Royal strikers
Pink-The power angels
Blue-The Burning dazzlers
Green-The Groovy Girls.
On 18th April, the University turned into a rainbow, when students spread different colours in the atmosphere and showcased their creativity, with a number of competitions like face painting, eco dresses etc. Mrs. Preeti Sharma and Mrs. Manju Jha from Mody School were invited as judges for the events. The competitions that were lined up –
Splash – To express your thought through colours, you have to have good creative mind. This competition was face painting and hand painting competition. Two students from each team were required to paint hand and face of a student on theme 'Nature' depicting some moral.
Notice board decoration – Expressing your love and admire about your country by decorating your university notice board is really creative task. Each team was given 20 minutes to decorate the notice board on theme India.
Salad art – When a plate of salad has given to you to decorate it by using your innovative ideas, is one of the best way to show your creativity. The students decorated salad and vegetables using creative ideas.
Eco dresses – When fashion comes in an eco friendly way, it becomes more creative. Each team made beautiful dresses out of newspapers, tissue papers and other eco friendly materials.
TREASURE HUNT – Hunting treasure never been so fun and interesting. A very creative act where each team was given certain clues to find out the treasure hidden in Mody campus.
"Culture is the widening of the mind and of the spirit" – as Jawaharlal Nehru said. FASC students celebrates this fact on the Day Two (19th April), with various cultural activities. Faculties of various departments namely Ms. Sarita Saxena and Ms. Seema Goyal (Mody school), Mr. Divya Deepak(FET) and Mrs. Sarika Mohta(FASC) were present there as judges. According to Martha Graham 'Dance is the hidden language of the soul of the body'. Events included Solo dance based on theme 'Emotions', Duet dance through which students had to depict a movie gist, through Group dance each team reflected the beauty and importance of their team colour. Other events included a Skit competition where each team represented the importance of youth through a 6 minute act, Mime on Pollution, Add Mad Show and Talent Hunt. President Mr. Vishwanath (Vish) Prasad and Dean of FASC Dr, Sunil Jhakoria were invited as the special guests for the day. End of the two day long event, it was the Pink team who won the crown.
Mody University established itself as an institute who not only impart quality education and knowledge to the students, also indulge them into creative and innovative world to explore their inner self. Believing in learning beyond classroom, they frequently organize Excursion, Industrial tour, Cultural programmes which help them to release their academic stress and spend some quality time with nature, colours and culture.