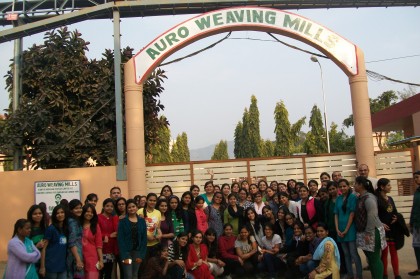 Learning is fun. And when education comes with holidays and excursion, learning becomes more interesting. To indulge in an education- 'the fun way!', Faculty of Management Studies students of Mody University of Science and Technology went on Industry cum Excursion tour at Baddi to Manali to Chandigarh from February 23 to March 2, 2014.
With the tour in–charge Dr. Sourabh Sharma and few other faculty members MBA 1st and 2nd year and MBA Tech. students, started their journey to enrich their knowledge with fun, on Feb. 23, from Lakshmangarh campus to Baddi (H.P), at 9 PM. After a night long journey, next day after reaching Baddi they visited 2 industries there, Indofarm Industries Limited and Vardhaman Textiles. On Feb. 25, they visited another 2 industries, Greenply Industries Limited and Pearl polymer. They gained detailed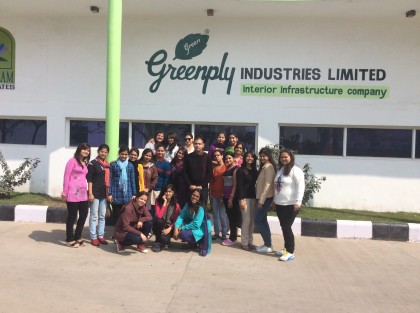 knowledge about big industries like textiles and polymer.  After the daylong learning session, students dance at the night  out in a grooving DJ party. From 26th February they got the  opportunity to enjoy their Excursion tour completely. They  started for Manali at 9 AM. and reached there at 9 PM. On  27th they took the whole day visiting different places in  Manali. They went to Solang Velly and had a great time to  playing with snow. Then they visit to Guru Vashisth Temple,  Hadimba Temple, Mall Road. Without any hint of tiredness,  they were willing to enjoy the night in the Dance Party,  organized for them. Next day they started for Chandigarh at 9  AM and reached there by 9 PM. On 1st March morning they  visited Rock garden – garden with sculpture completely built  by industrial & home waste and thrown-away items and they  got a wonderful opportunity to learn about the history about the place. They went to Sukhna Lake and Elante Mall also. Now it was time to go back from where they started, Lakshmangarh. After having a wonderful journey they reached the University Campus, on March 2.
It was a fine tour and a good experiential learning for students to visit 4 industries in Baddi. They gathered experiences by exploring those big industries, and had a great fun by exploring different places in Himachal and Chandigarh. Mody University always encourages learning with fun and grasping practical knowledge. By organizing a tour like this, the university tried to motivate the students. Friendly behaviour of faculty members always make it easy for the students to communicate well and involve courageously.