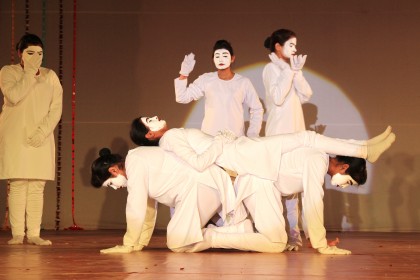 The chants of the devotees, the traditional aarti and the divine lights on diyas made of leaves make the lilting green waters of Ganga flow through the city with the rhythm of the devotional music. Descending from Gangotri-her legendary source, Ganga has been the centre of greenery and matter of faith. Apart from blessing our country with her unmatched powers of purification, she has emerged as a mother, a goddess, a tradition, a culture and much more. But today the "holy river" is sixth most polluted river in the world!
With the aim of addressing the hazardous attacks of environmental pollution that the river is facing till today, the Faculty of Arts, Science & Commerce of Mody University of Science and Technology made the Founder's Day Celebration memorable and meaningful with its interesting pantomime. With this programme, held on 25th January 2014, the University tried to raise a voice against the pollution over any water body. It is a drive that the FASC students undertook to urge people to refrain from throwing any kind of waste into the holy river. The pantomime had a message, "Water is the Soul of Life."
As John Burroughs said, "The kingdom of heaven is not a place but a state of mind". One's mind is just a collection of impressions that is gathered over the time. And the way one perceives the world depends on the inner state of mind. It can be free or cluttered with thoughts that burden the mind, forbidding us to think clearly. And the only way we find solace is by sheltering into religious beliefs. We churn ourselves spiritually; hence we face catharsis from the earthly burden.
This year on the occasion of Founder's Day Celebration, FASC students portrayed this churning which is an ordeal of life and the delirium of illusions that one faces through a beautiful ballad "Samudra Manthan". The ballad showcased the latent talents of the students of Faculty of Arts, Science & Commerce with a beautiful message that came across from the ballad. It represented the journey and hurdles that come along in life. And how in the process of churning, we meet virtues, that are the essentials for living a good life, and vices which stop us from achieving personal happiness. There cannot be a bad virtue and a good vice! The ballad was a wonderful representation of a man's worthwhile attainment when he turns towards virtues and not vice. The Founder's Day Celebrations by FASC students portrayed an inception of good attitudes and decency.
Mody University is always known for instilling good values in the minds of the students by making sure these types of events keep happening in campus. These events show them the path to follow in life apart from the quality education it imparts which proves to be a lifelong learning experience for the students!