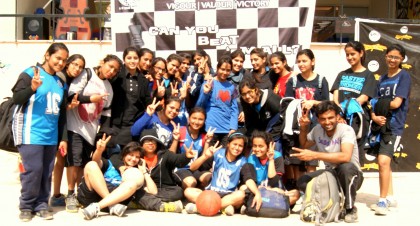 As the saying goes, "Sound mind in a sound body", sports are an integral part of education exercising not only your body but your mind which then explores to attain a lifelong learning experience. Mody University of Science and Technology has always been a University which makes sure that the students always get a slice of competition and camaraderie developing their mind-both physically and mentally.
The recent achievement of the Mody University Sports Team and the accolades that it has won has put the University in limelight again. In the recently held National Level Annual Sports tournament VARCHAS' 2014 at IIT Jodhpur, the performance of the students has fetched the University medals which shows the skills and capability of the students beyond academics. The tournament, held from 13th to 16th February,2014  had 32 Colleges and Institutes participating. The competition was intense which made the best come out from the students who won medals and enjoyed at the same time at the tournament. The team had won 4 Gold Medals, 1 Silver Medal and 1 Bronze Medal in 6 out of 7 events that they participated.
Sports are an integral part of education. Both are beautifully related as they make a student enjoy while she is learning! Participation in sports improves the academic performance and nurture the sportsmanship spirit and mental or cognitive development.
Mody University makes sure that their students are a part of this kind of sports events which makes them learn about teamwork and achievement and success which in turn leads to their zeal and enthusiasm in academics which they pursue then with an open mind.