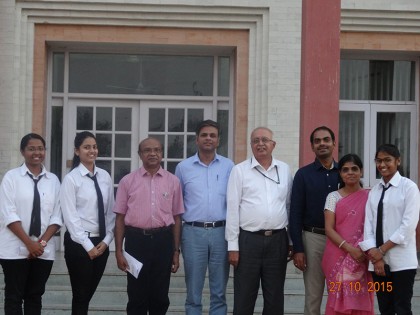 Mody University was honoured to have an eminent guest, Prof.  Swapan Kumar Majumdar, Director,JKLakshmipat University, Jaipur on 27th November, 2015 for aguest lecture on Executive leadership. This was organized by Yuktam,the Human Resource Forum of COBMEC under the supervision of Faculty Coordinators-Dr. Sunita Verma and Dr. D Suresh Kumar.
Miss Shobhana Dubey, The Secretary of Yuktam and Miss Sakshi Singhania, member of Yuktam welcomed the guest speaker, faculty and students. Prof. Suresh Advani, Dean-COBMEC presented a bouquet to the session guest.
Prof Majumdar during his lecture discussed how leadership is about influencing people for a positive change and what characteristics a good leader should have. He stressed the need of attributes like trustworthiness, self-confidence, emotional intelligence,and drive and explained the importance of practical knowledge.
He exhorted the students to overcome fear of doubts and uncertainty to become good leaders.At the end of the lecture, Prof. Suresh Advani and Prof. Sunil Jakhoria, Associate Dean gave their valuable opinions and encouraged everyone to be role models to others and to achieve their goals.
Prof. Sunil Jakhoria also presented a memento and a prospectus of Mody University toProf. Majumdar.
Theevent ended with a vote of thanks by Miss Stephy Ann John, member of Yuktam.