The engineering students at Mody University were full on energy to celebrate Engineer's day in an exclusive manner this time.  Preparations were done to celebrate this day in an un-precedential manner. The School of Engineering hosted a series of events including 'National Seminar on Emerging trend in Engineering and Technology' at the Mody University campus. The occasion witnessed inauguration of 3 Student Chapters IET, IETE and ACM and few eminent guests to celebrate the spirit.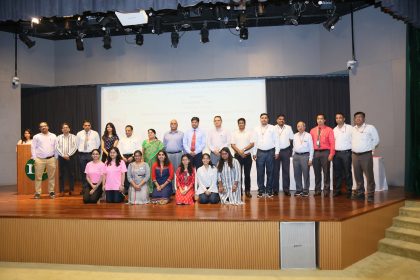 On the occasion, the Chief Guest, Prof. Arun K. Pujari, Vice Chancellor, Central University of Rajasthan advised students to understand the in-depth concepts of engineering. He informed students that engineers are not just degree earners, they are creators and have to have engineering bent of mind to innovate and create something new for betterment of society.
In his address Er. A. K. Garg, Director (Operations), Delhi Metro Rail Corporation Ltd. Spoke about the operational aspects, features and challenges of Delhi Metro. He also shared the benefits and dynamic management style of the system for effective functioning.
Ms. Megha Pandoh, Asst. Manager, IET inspired students talking about the usage and emerging aspects of Technology in the information sector. She informed about the recent trends and growing contribution of IT in different sectors to make human life easy.
Inaugurating the Student Chapter of  IETE at Mody University,  Dr. Dinesh Yadav, Hony. Sec., IETE, Jaipur and Assist. Prof., Manipal University Jaipur introduced students to The Institution of Electronics and Telecommunication Engineers (IETE) . He spoke about the critical aspects of communication and challenges related to connectivity.
The Seminar witnessed expert talk by Prof. Manish Tiwari, Chairman, IETE Rajasthan Center, Jaipur and HOD-ECE, Manipal University, Jaipur. Prof. Tiwari spoke about the photonic crystal fibers: unfolding exotic optical properties through creativity.