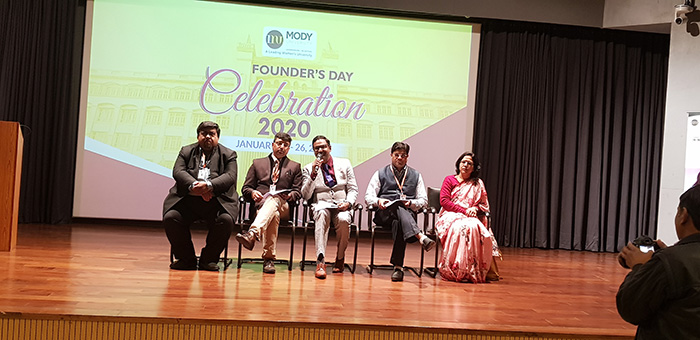 Mody University organizes Week Long Events for Founder's Day Celebration (FDC)
between 22 nd – 26 th January 2020
Mody University will be organizing week long mega functions to celebrate its Institute' Founder's
Day between 22 nd – 26 th January 2020. The mega event will host around thousands of people,
including students, faculty, parents, esteemed guests etc. at the Campus. The celebrations would
include cultural events, sessions, distinguished talks and spiritual discourses throughout the week.
On 22 nd January 2020, the function will begin with the auspicious ritual of Agni Sthapana & Ram
Yagya which will be performed religiously as a part of the on-going rituals for all the five days by 21
Vedic priests from Tirupati. Philosophical discourse on Bhagwat Geeta by Ms. Jaya Row from Creator
Vedanta Vision will be delivered to enlighten the students. Madam Tara Agarwal, RHJS, District &
Session Judge (MSCT), Sikar (Rajasthan) will perform the inauguration ceremony of Mody School
Exhibition.
Dr. M Venu Gopala Rao, Director, Mody University informed that the highlight of the FDC would be
the 14 th Convocation of Mody University which will witness the Chief Guest Dr. Anil Sahasrabudhe,
AICTE, Chairman on 23 rd January 2020. In the Convocation graduating students will be awarded
degrees, which will include graduates, post graduates and Ph.D. students. The University will also
award distinguished alumni and outstanding students. On the same day, the Alumni meet is
organized enabling alumni to meet their Alma Mater. Hemant Kumar Musical Group would present
wonderful performance of musical notes at the musical evening.
On 24 th January 2020, the much awaited Centre for Innovation, Incubation and Entrepreneurship
(CIIE) will be inaugurated in the presence of august gathering and eminent guests such as Mr. N. P.
Rajive, Vice Chairman, National Innovation Foundation (NIF), Mr. Chand Kaushil, Head (ICT,
Innovations and Solutions), United Nations Office of Information and Communication Technology
(OICT), India, Mr. Thirupuzzuha, Addl. Secy NDMA, GoI, Mr. Kiran Gadhari, Head Digital Innovations
and API Banking, HDFC, Ms. Nidhi Kakkad, Manager Digital Acceleration and Innovations, HDFC Bank,
Dr. Rajib Shaw, Professor, Graduate School of Media and Governance, Keio University, Japan, Dr.
Ranit Chatterjee, Co-founder, RIKA India and a Postdoctoral Fellow at Kyoto University, Japan and
Mr. Pravin Rajpal, Founder Innovationext. Kaavyanjali event will witness presence of Shri Nilotpal
Mrinal who is renowned Author & Poet. Justice Mahesh Sharma, Chairman, State Human Right
Commission, Jaipur will be gracing the Prize Distribution & Cultural event ceremony of Mody School.
Mody School will also be hosting a number of events for its students that include Annual sports day
which will witness presence of Ms. N Kunjarani Devi, most decorated Indian sportswoman in
weightlifting. A memorable performance by Padamashri actor Mr Manoj Joshi on Chanakya by
Dharmajam would be presented on 25 th January 2020.
Dr. V K Jain, Dean Academics and Dr. Vinod Purohit, Registrar, Mody University informed that the
University is looking forwarded to hosting all these eminent guests and amazing intellect-filled
events & experiential performances for both its students and stakeholders. On 26 th January 2020,
the celebrations would conclude with the ceremony of Shri Ram Yagya' Poornahuti besides Republic
Day Celebrations in the presence of the Chief Guest Lt Gen SPS Katewa, PVSM, AVSM (Retd).