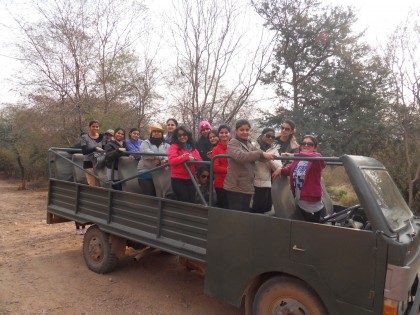 Verdant Greenery, a gamut of varied species of chirpy birds and animals and off course a tiger habitat, Ranthambore National Park is a paradise and a treat for every wildlife and nature lover! Located in the Sawai Madhopur district of southeastern Rajasthan, about 130 km from Jaipur, Ranthambore National Park terrain is a major wildlife tourist attraction spot attracting many wildlife photographers as well.
Mody University of Science and Technology arranged a visit to this beautiful destination- Ranthambore National Park to make the students witness and capture in their minds the ardent beauty of the nature. B.Sc. I & II year students of Faculty of Arts, Science & Commerce made this academic tour on 15th-16th February,2014, which was a part of syllabus for B.Sc. Life Science Students.
The tour proved to be a beautiful experience for the students who indulged themselves in exploring the nature and the wildlife and witness the varied flora and fauna of the park. Besides tigers, there are various animals to observe, understand and enjoy. Graceful spotted deer, huge sambhar, crocodiles basking on the lakes or the eagle which keeps scanning the ground from its perch. The forest comprises of few of the unique species of birds, insects, plants and mammals. Few of them are Caracal, Refugus treepie, Indian Gazals, White Imperial Vultures, Forest Cat and wild bore. The forest canopy is of famous Rajasthani shrub i.e. THOK, Tendu, Palash, Mahua, Umar and Acacia-all these make the forest a great experience in totality. FASC students were really thrilled to be a part of this tour where they observed these various species in their natural habitat.
Mody University made sure that the tour was memorable for the science students who learned about the various flora and fauna in natural conditions which fulfilled their various queries regarding nature and ecosystem.