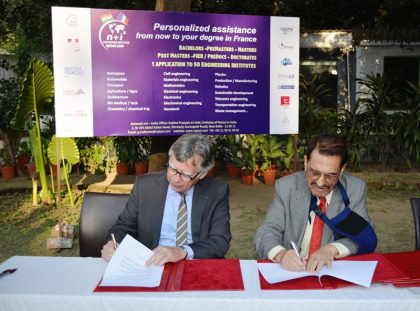 On 7th Dec. 2017, Mody University of Science and Technology signed a Memorandum of Understanding (MOU) with Network n+i (consortium of over 50 French Engineering School), France. The MOU was signed by Dr. Jean-Pierre Trotignon, Executive Director, Network n+i, France and Dr. R.K. Shivpuri, Director, International Relations, Mody University.
The Network "n+i" is a consortium of over 45 French Grandes Ecoles d'Ingénieurs (Engineering Schools). For 15 years it has been the biggest network in France. These schools have elected to combine their international cooperation operations so as to offer a better service to foreign students. The Network "n+i" Engineering Institutes is a not for profit public benefit association (French law 1901). The Network "n+i" is managed by a board of governors made up of 12 school directors elected by the member schools.
Just "one single application" by a student ensures that it reaches 45 Engineering Institutes and over 100 research labs for the following courses.
Master's Degree – 2 years after a Bachelor program in a French Engineering Institute.
For "EXTRA-ordinary" engineer to cultivate their difference via an International training program in France, the Network "n+i" allows Bachelor holders to complete their training for Master (French Diplôme d'Ingénieur) or the "i" Master (more specialized, focused on a particular scientific or technological field).
Post Master – 12 months to specialize in a specific field of studies after graduation from a Master degree. This period in France is dedicated to courses and internship in order to be better prepared for the world of work.
Top training in a specialized domain generally in connection with a company.
Following a Post-Master degree, the student shall have numerous employment perspectives. It has to be underlined that companies often offer scholarships to fund a Post-Master degree as it is an investment to well train their future fellow staff members.
PreMaster – Prepare in 1 year to Engineering or Master's degree studies with Network "n+i" and seize the unique opportunity to prepare for apprenticeship programs.
This program is dedicated to students who have a Bachelor but who do not reach the prerequisites (language, sciences). It is a 1+2 program to "Diplome d'Ingenieur" or to Master.
Adapted and active educational methods
PreMaster's students are offered a specific support throughout their 1st semester to identify a school within the Network "n+i" that is prepared to welcome them during the 2nd  semester of the PreMaster.
Apprentices benefit from companies financial support (no guaranty) for their trainings, along with monthly salaries and, having reached the end of their trainings, from first professional experiences in companies in France. Students will be helped during Pre-DI or PreMaster to find a sponsoring company.
Enrollment for Ph.D. which can be offered after Master's program.
"track-to-success" package – dedicated to International students.
Package for Cultural Integration (PIC) – personal assistance and follow-up from the arrival in France to the graduation (welcome and guidance, everything is planned for the student arrival, a representative of n+i will meet the students at the airport and assist for registration and opening of a bank account, tourist discovery of Paris, SIM card included in the welcome bag, insurances, assistance number available 24/24..)
Package for Linguistic Integration (PIL) – 8 weeks of intensive French courses before starting the training, with a stay in host-families to boost the knowledge of the French language and culture.
Package for Methodological Integration (PIM) – a period of adaption as a part of the engineering training which provides training on academic methods as well as language training and will help students feel more confident about teaching methods in France (lessons are in small groups taught in French but tailored specifically for non-French natives).
Pre- Diplome d'Ingenieur – A 10 to 12 month period to best prepare to "Diplome d'Ingenieur" (3-year) training in France: French and/or English, mathematics, sciences. This program is dedicated to students who have not a Bachelor but, as a minimum, a diploma after 2 years of higher education, or who have a bachelor but who do not reach prerequisites (language, sciences). It is a 1+3 years program to "Diplome d'Ingenieur"
FIER-DOC – A 2-month training in governance of research activities plus and a 3-month research experience in a laboratory. (FIER- French Innovative Experience in Research).
Training seminar in governance of international research (conferences, visits, workshops):
Ethics, the researcher's social responsibility
Scientific publications (journal, reviews, conferences), where to publish?
Industrial and intellectual property, patents
Data protection, cyber security, plagiarism research
Research funding (public, private), co-research (companies)
Communication (media training), social networks (LinkedIn, etc.)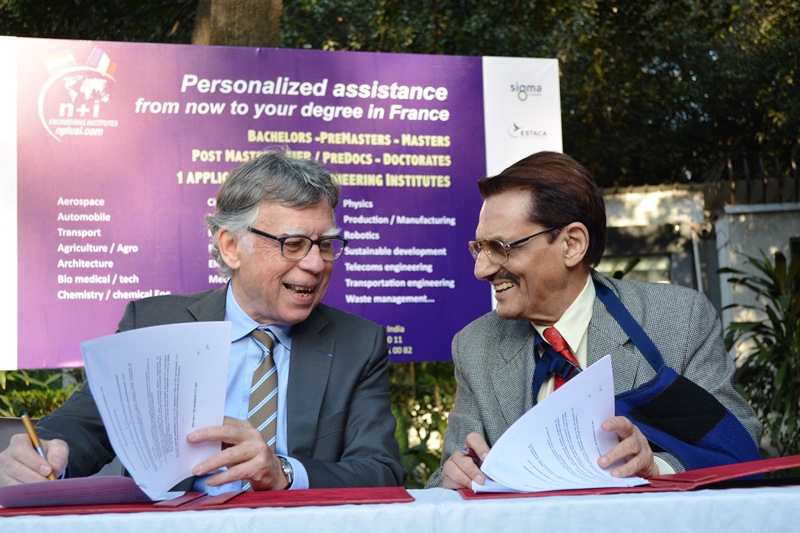 Objectives
Acquiring knowledge required for governance of research projects useful to any future director of research programs
Enabling candidates to gain research experience for 3 months (or more) in their field of skills in France (public or private laboratory)
Be in contact with further potential sponsors of the thesis
Post FIER-DOC, start a 3-year Doctoral program.
The rendez-vous "n+i" A Cocktail of Culture, Language and Engineering in France. A 14 days immersion in a French Cultural, linguistic and technological environment.
A module of language and culture: initiation to French language classes, cultural activities and visits (cruise on river Seine, Eiffel Tower, Montparnasse, Notre-Dame)
A module of Science and Technology: visits of industrial sites and companies, thematic conferences and debates
Half board accommodation (host family or in student residence)
Airport personalized welcome, 2 nights in Paris + city tour
Transfers, insurances, coaching
The MOU signed by Mody University and n+i recognise:
Their mutual interest in training engineers with an international vocation,
The importance of the role of higher education institutions in the promotion of relations and their contribution to social development.
Cooperation between the two institutions may be established within any field related to Science, Engineering and Technology.
The two institutions agree to promote, to their students, the possibilities of studies and training in their partner institutions (MU for French Students and Network "n+i" for Indian Students).
Cooperation in the areas of research, long distance learning programs, short exchanges etc. could be discussed and will be subject of separate agreements.
This MOU will expand the global network for our students and faculty.