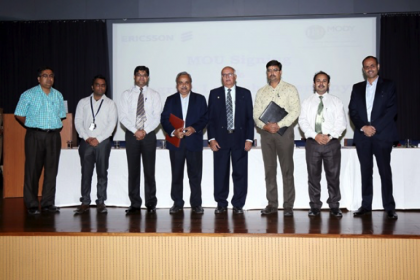 Memorandum of Understanding (MoU) has been signed today on 1 between Mody University, Lakshmangarh and Ericsson (I) Global Services, the leader in the field of Communication. Looking at the need and current trend, College of Engineering & Technology (CET), Mody University will offer Elective Course on Advance Radio Access Network (ARAN) for pre-final year and final year students in association with Ericsson (I) Global Services Pvt. Ltd.
It will create an edge over others and make students 'Industry Ready'. The course will be delivered by the Subject matter experts from Ericsson and accordingly Faculty Development Programme will also take place. The function was organized in Swami Ramtanu Pandey (Tansen) Sabhaghar, Mody University.
In this occasion, Prof. Suresh Advani, President-Mody University, Prof. V. K. Jain, Dean-CET, Dr. Vinod Purohit, Registrar-Mody University and Mr. Sudhanshu K Sinha, GM-CDC represented Mody University. From Ericsson, Mr. Ranjit K Sinha, Senior Director along with other representatives graced the occasion.
The event was initiated with the Welcome Speech of Mr. Sudhanshu Sinha. President, Mody University emphasized on industry and academia relationship and collaboration. Dean-CET expressed his view on how the students can be industry ready after going through such courses.
Mr. Ranjit Sinha, Ericsson has told about the long lasting relationship between Mody University and Ercisson and expressed his views on the importance of Industry electives. He also said about the benefit of ARAN and its uses in the field of Technology. The event was ended with the Thanks giving by Prof. P P Bhattacharya Professor of ECE Deptt. CET.
The programme was attended by faculty members and students.
Summary
Event
​Memorandum of Understanding (MoU)
Location
​ Mody University,Lakshmangarh
Starting on
10/13/2016
Ending on
10/13/2016