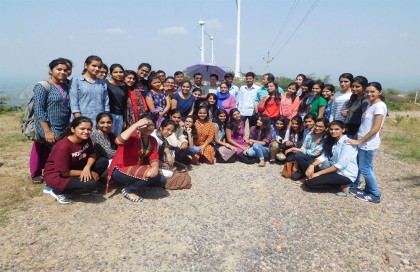 The  Electrical  Engineering  Department  of  College  of  Engineering  and Technology,  Mody University, Laxmangarh, Sikar (Raj.) had organized one day Educational visit to Wind Power Plant  at Harsh Parwat , Sikar (A unit of Wind World India Limited) Sikar on 15th September 2016 for its students.
The basic purpose of this visit was to provide the exposure to the student's for basic and practical knowledge on generation of electricity by wind energy. This visit was started at 10 am with more than 3 hrs seminar on electricity generation by wind power followed by site visit.
About 40 undergraduate students and 3 faculty members were benefited from this industrial visit as  they  got  a chance  to  interact  with  the  officials  at  the  generating plant  and understand the process thoroughly.
Our  students  and faculty  members  have  also  seen  the  Modern  Automatic  control panel/mechanism of WWIL through SCADA software, 700 KVA transformer, Wind mill towers, Rotor Sub Distribution Boxes. This visit has actually organized from the initiative/permission of our honorable Dean, CET Prof. (Dr.) V.K Jain, and HOD (EE)- Dr. Sudhir Y Kumar.
We are especially thankful to respected Mr.Lalchand Kumawat, Sikar division because they granted us permission for taking visit and assistant engineers of WWIL who gave the proper guidance to students and gave practical based approach learning to students. Mrs. RituTak, Assistant professor, Electrical Engineering Department has co-ordinate the visit.