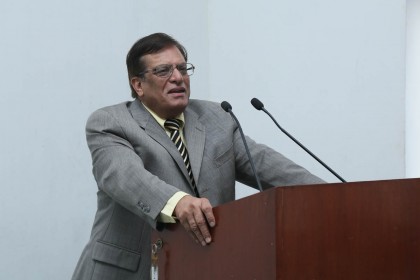 The Induction programme for the newly admitted undergraduate students of College of Business Management, Economics and Commerce (COBMEC) at Mody University was scheduled from 27th to 29th July, 2015. The programme was organized with an aim to acclimatize the first year students with various activities which are an integral part of the curriculum of management students. The programme began with the welcome speech by the Dean Prof. Suresh Advani. He motivated the students and asked them to participate in various activities which will organize during the academic year. He also informed them about the possibility of starting rotaract in the COBMEC division, so that they can support and strength 'khushi" a forum of the student's activity try to bring joy in the lives of the under privileged children of the nearby Government Primary School. Followed by the speech Prof. Sunil Jakhoria, the Associate Dean, he was updating the students about the history of Mody university. 25 years back it was started as a school from theirit branched out as a university with six colleges working as a separate entity.  The President of the University, Prof. Vishwanath Prasad also motivated the students with his lively speech. On the inaugural day, students were informed about the general rules and regulations, student activities and societies, examinations, library, internet and lab facilities, hostel rules and regulations and shuttle services. Ice-breaker sessions were conducted in the afternoon.
On the second day, some interesting activities were held which saw enthusiastic participation from the students. The day started with poster-making on the theme of Women Empowerment during which the students showed their creativity, followed by Exercise on Observation & Listening skills and Just a Minute(JAM).  The last day of the Induction Programme was marked by other activities such as MIME, Team Building games, Debate and Group Discussion, Newspaper Analysis and Presentation of personal skills by students.
The Induction Programme was a huge success with the students enjoying every bit of it. The faculty members played an active role in facilitating smooth conduct of all the events.