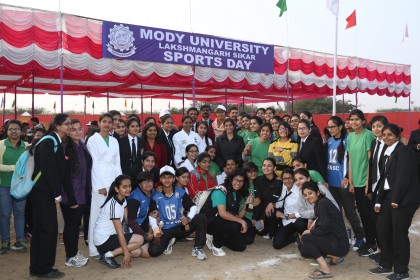 The first annual Sports Day of Mody University was held on 25th January 2015, as a part of its ongoing Founder Day Celebrations. The students from Engineering, Management, Law, and Arts, Science, and Commerce streams participated with gusto in a string of competitions and exhibited their splendid sporting skills. Padam Shree recipient, Ms Krishna Poonia, was the chief guest of the event. She is the first Indian woman athlete to win the Gold Medal in Commonwealth Games.
Dr. Vishwanath (Vish) Prasad, the President of Mody University, hoisted the flag to start the proceedings. Harsh from Faculty of Arts, Commerce, and Science (FASC) scampered to glory in 100-metre Sprint. She also bagged the top position in 200- metre Sprint. She continued her stellar 'run' by helping FASC win 4*100-metre Relay. Faculty of Engineering and Technology (FET) put up an energetic performance and won 4*400-metre Relay. The students also demonstrated their wares in Yoga, Karate, and Drill with aplomb.
The chief guest, Ms Poonia, shared the memories of her glorious sporting sojourn and underscored the significance of diligence, perseverance, and courage. She lauded Mody University for instilling a sense of confidence and sporting culture among women.
The sporting spectacle came to an end with the evocative National Anthem reverberating through the precincts of the campus.
In the evening, a poetic soiree was organised where a raft of renowned poets – Virendra Mehta, Dr Praveen Shukla, Gajendra Solanki, Mahendra Ajnabee, Chirag Jain, and Tusha Sharma – enthralled the audience by their seminal poems. They also had audience roaring with laughter by their rasping rejoinders.
Their versatility shone through as they touched upon a variety of themes like humour, valour, patriotism, and love. Each of their prose was greeted with rapturous applause.