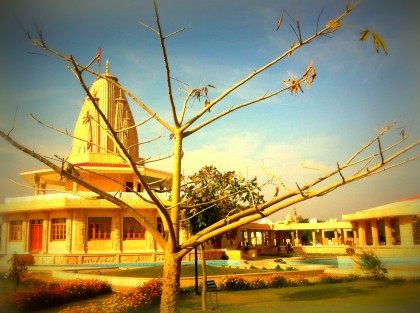 Tapovan comes from the two root words Tapasya – meaning specifically austerity, and more generally spiritual practice, and Vana – meaning forest. Tapovan then translates as forest of spiritual practice, wild place for practicing austerities, etc. Spiritual practice or meditation is the only way through which we can get connected with Eternal Power and communicate with our inner soul. Believing in the divine attributes, Mody University of Science and Technology tried to form a place like Tapovan, where students can meditate and reinvigorate their inner self through Yoga. It's a place where the purity of nature and the vibration of continuous recitation of 'Vedic Mantra' creates ripple in their hearts and sanctify their soul.
Faculty of Arts, Science and Commerce (B.C.A., 1st year) student Ms. Lipika Chhabra framed and captured the beauty of Tapovan through her lens. Her 'Photograph of Tapovan' is an efficient exertion to portray the calmness and sanctity of the environment. Youth Photography Festival, 2014, New Delhi is a perfect dais where she got a chance to expose her talent and got appreciation from everyone.  This Festival was organized by The Education Tree organization from 29th March to 1st April, 2014. It was an amalgamation of artist talks, seminars, workshops, photo walks, performances and a photo exhibition. It is the perfect platform for amateur photographers to get exposure and recognitions.
The University and the faculty members give proper guidance to find out the students' special talents and mould them through an exceptional programme structure and extra curriculum activities. It gives a new dimension to their passion and helps to shape up their career in their desired field.
Appreciation of Lipika Chhabra's photography put the name of the University in the limelight. It proves that University gives opportunity to showcase the students' latent talents and indulges them to follow their dreams.