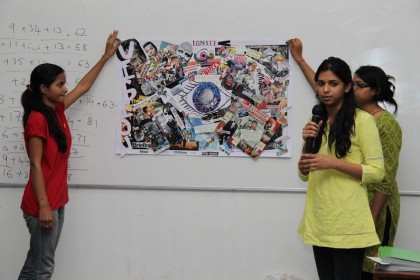 As Aristotle said, "Excellence is an art won by training and habituation." Proper training enhances one's capabilities. And when one gets a chance to learn from the best professionals of the Industry, it becomes the best opportunity to enrich one's knowledge and lead to excellence. Following this vision, Mody University of Science and Technology always wants to give the best opportunity to enhance the knowledge and talents of the students by inviting the best companies and professionals to the campus.
Accenture Services Pvt. Ltd. commenced its prestigious HSIPP training programme at the Mody University campus on 10th March, 2014. It was a special training programme for the students of Faculty of Engineering and Technology selected by the company during the Campus Recruitment Process, from the batch of 2010-14. This programme is a part of six-month internship programme of the company, which is being conducted at campus itself. After the training session, the students will be posted in the appropriate places of the company, where they will complete the remaining part of the training programme. All the 150 trainees attended the sessions on computer languages like, JAVA, C#, etc., soft skills and business ethics.
As part of this training programme Mr. Prakash G Cherath and Mr. Manoj conducted exclusive sessions for the trainees on Soft-skills, Emotional Quotient, Intelligence Quotient and Business Intelligence, on 25th and 26th March, 2014 at the Campus. A Collage Making competition was organized on the last day of the session, in which students participated in 10 groups of 15 students each. The students who secured the first three positions were awarded by exciting prizes.
Accenture organized the prestigious training programme HSIPP only at selected few campuses in India. Mody University feels privileged to be chosen by the Accenture as the venue for conduction of this programme.
Considering it a career making educational hub, the University always wants to give the best quality education and training to the student. The University motivates them to brush up their talents and enhance their eligibility, which can make them different from others. The highly technical way of learning, discipline, spiritual environment, guidance of best teachers and professionals provided by the University lead the students towards excellence. The students are always ready to grasp every chance given by the University to enrich their knowledge and get training to enhance their professional skills.
The event received overwhelming response from students and highly positive feedback from them. The event concluded with a vote of thanks to Mr. Prakash G Cherath and Mr. Manoj by the Dean FET, Prof. J V Desai and GM – CDC, Mr. Sudhanshu K Sinha.