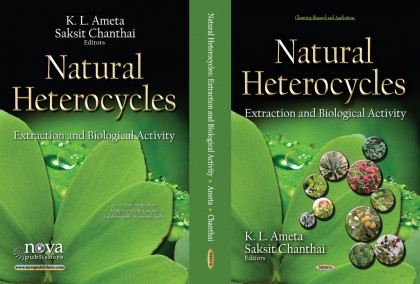 Natural Heterocycles: Extraction and Biological Activity
K. L. Ameta and Saksit Chanthai
Publisher: Nova Science Publishers, February 2015.
ISBN 978-1-63463-462-5
Content Level » PG and Research
Dr. K. L. Ameta: Associate Professor, Faculty of Arts, Science and Commerce, Mody University of Science and Technology, Lakshmangarh-332311, India.
Dr. Saksit Chanthai: Associate Professor, Department of Chemistry, Faculty of Science, Khon Kaen University, Khon Kaen-40002, Thailand.
Key Features
· Describes the Chemistry of Bioactive Natural Heterocycles
· Contains contributions by leading authorities in the field
· Presents exciting sources of new Pharmacophores
Description
Natural products in the plant kingdom offer a huge diversity of chemical structures that are the result of biosynthetic processes that have been modulated over the millennia through genetic effects. During the last few decades, research into biologically active natural heterocycles has advanced tremendously thanks to contributions from the fields of chemistry, life sciences, food science and material sciences. With the rapid developments in spectroscopic techniques and accompanying advances in high-throughput screening techniques, it has become possible to isolate and then determine the structures and biological activity of natural products rapidly, thus opening up exciting new opportunities in the field of new drug development to the pharmaceutical industry.
The present book covers the synthesis/ extraction and biological evaluation of the naturally occurring heterocycles, providing cutting edge accounts of the fascinating developments in the isolation, structure elucidation, synthesis, biosynthesis and pharmacology of a diverse array of natural products.
Readership
Natural product chemists, medicinal chemists, pharmacologists as well as researchers particularly those in academia and in the pharmaceutical industry.
Link: https://www.novapublishers.com/catalog/product_info.php?products_id=52352&osCsid=5166398e8d3be88a24513063972ebb88