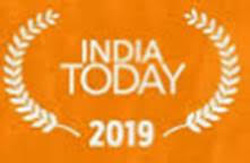 As per the B School Ranking 2019 published in Indian Today November 4, 2019, Mody University, School of Business (MU SOB) has emerged as the Highest Ranked Women-Only B School of India.
Set up in the year 2000, MU SOB over the years has curved out a niche for itself as a leading B School only for women. It has suitably aligned its programs, especially its flagship MBA program, with the philosophy of women leadership and has integrated its course delivery with women issues impacting decision-makings in the industry. It has got in place a dedicated team of fifteen full-time faculty members – most of whom are PhD holders and are seasoned teachers who have been with the school and university for nearly a decade on an average. Class-room teachings get supplemented with experience-sharing sessions by senior industry leaders especially women leaders. It has introduced innovative courses like Women Leadership in Business, Evolution of Indian Business in its course curriculum in MBA and BBA programs respectively. It has put together an enviable Board of Studies comprising of faculty members from leading B Schools like IIM Calcutta, IIM Kozhikode, XLRI Jamshedpur, BITS Pilani, Administrative Staff College of India Hyderabad, NITIE Mumbai. It has got in place international affiliation with Graham's School of Business, Saint Xavier's University, Chicago. Three of its students attended one-month Summer School Program at Carleton University, Canada last year. And it has also got on its Board of Studies, faculty member from School of Business, University of Notre Dame, Australia.It has one of the finest industry linkages that any B School can aspire. Through its Industry Advisory Committee and other platforms like Centers of Excellence it has got on board senior professionals from blue-chip organizations like IBM India, Bain Capability Centre, Societie Generale, Mashreq Bank, Wipro, Tech Mahindra, Centre for Creative Leadership, AXIS Bank, Acuite Ratings & Research, Johnson & Johnson, Infinite Retail, L&T Metro Rail (Hyderabad), IMRB Kantar, Metropolitan Stock Exchange, Concourse Consulting, Straumann Group, Risk Management Association of India, Dhristi, Medium Consulting. It has set up Centers of Excellence in the areas of Women
Leadership, Women Entrepreneurship, Tourism Management, Finance & Economics Studies; Retail, Logistics & Supply Chain Management. It also supports special interest groups in the areas of Social Sector Management, Sports Management, Performing & Visual Arts. Placement for the Batch 2018-20 has started from October 2019 – with almost 85% percent of the batch already holding one job offer by November 2019 from leading organizations like ICICI Bank, ICICI Prudential Life Insurance, Thrillophilia, Lido Technologies and so on. Highest salary offered on campus so far has been Rs.10 lakhs perannum.