Mody University Centre for Women Entrepreneurship in association with Entrepreneurship Development Institute of India (EDII), Ahmedabad presented Entrepreneurship Awareness Camp between 14th-16th October 2019. The School of Business hosted a Three-day Entrepreneurship Awareness Camp (EAC), with remarkable
speakers joining us to share their knowledge with the students. Mr. Vigyan Gadodia, Mr. Gagandeep
Kang, Mr. Abhishek Patodia, and Mr. Subodh Kaushik, were invited to help raise awareness about
entrepreneurship in the modern era. Along with the speakers, our revered Dr. Anirban Sengupta, Dean,
School of Business, and Prof. Sumit Kulshrestha, Coordinator, Centre for Women Entrepreneurship, were
present. The programme began with lighting of the lamp for Goddess Saraswati.

Mr. Vigyan Gadodia, CEO & Founder, The Sahaj Group, was the keynote speaker. He shared his
experience from his days at the Tata Consultancy Services, and when he was working at Yes Bank. He
briefly spoke about his college experience at IIT D and IIM C as well. Then, he stressed the importance of
being resourceful and why it is key when starting a business. He also gave other valuable tips and things
to keep in mind while starting up an enterprise. After he was done listening to a few business plans from
the audience, he gave feedback to the participants on where their plans are strong and where they need
to work. Later he told the students about his own start-up, Sahaj, which essentially produces and supplies
dairy products.

Mr. Gagandeep Kang, Mentor – iSTART Rajasthan, briefly explained their programme, facilities,
procedures, etc. He did not go into too much detail about the program, instead choosing to teach the
participants about business plans and pitch decks. He spoke on the importance of creating a good
business plan and an even better pitch deck for the investors. He showed the students what is needed for
a pitch deck to be highly informational yet attractive to investors, and what an investor expects from
pitch deck. He also told the participants about the various types of pitches and how a budding
entrepreneur can even grab the opportunity to pitch an idea on an elevator ride. Later, he heard a few
business plans and gave valuable feedback to participants.

Mr. Abhishek Patodia, Mentor – iSTART Rajasthan, spoke about why iSTART can help budding
entrepreneurs greatly and how to get oneself registered with it. He also explained the advantages of
registering, and how it connects the entrepreneurs to the investors. Basically, iSTART is a one stop
solution for startups to access all benefits and offers by the Government of Rajasthan and connect with
relevant investors, accelerators, and incubators. It is the home for entrepreneurs and innovative thinkers.
Millions of young minds with brilliant idea, new age thinking and extraordinary skill are ready to take
ahead the startup drive by registering themselves in it which provides a lot of services to the new
entrepreneurs.After this, both the mentors met all the groups personally, to discuss their ideas and find out the
shortcomings along with their solutions, gave valuable advice which cleared the doubts of the
participants regarding business to a great extent.

Mr. Subodh Kaushik, Advisor, Mody University, was called on to share his experiences. He gave the
students numerous ideals on how to stand upright in the face of adversity. He also gave several real-life
examples meant to motivate the students. He emphasized the importance of being open to change,
adapting to it, and improvising accordingly. He supported this with even more examples of companies
which failed, and the technological advancements that were delayed, all due to not changing with time.
One of the most memorable examples he shared was of a bedbug. He said that if a bedbug can devise
ways, put in the effort, and finally achieve its goal, we can do it too.
The third day was kicked off with enthusiasm and anticipation in the participants, eager to present their
pitch decks to the judges. The expert panel had Mr. Gagandeep Kang, Mr. Abhishek Patodia, and Dr.
Divya Mathur. The students were given valuable feedback about their plans by the mentors.
As the sessions came to an end, all the guest speakers formally launched the Centre of Women
Entrepreneurship, whose mission is to provide young women a sustainable and supportive environment
in nurturing as an entrepreneur and to assist in development of the startups ecosystem by enabling the
linkages among their stakeholders. The Coordinator of the center is Prof. Sumit Kulshrestha, and
members are Dr. Kailash Chaudhary, Dr. Sunita Verma and Dr. Rajesh Sharma.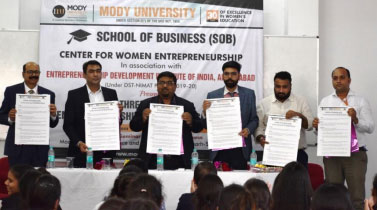 The Entrepreneurship Awareness Camp also included a site visit – the participants were taken to the
Sahaj Dairy Farming Unit in Lisaria Village, 110 kms away from the campus. It is a unit of The Sahaj
Group, an entrepreneurial venture established in 2007 which produces and supplies organic and fresh
dairy products. What sets them apart in the market is that they focus on keeping their supply fresh, and it
is consumed on a day-to-day basis. The unit in Lisaria is an 80-acre village where they farm organically,
and have a processing unit set up, which the students toured.