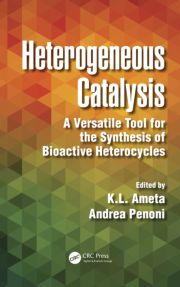 Heterogeneous Catalysis: A Versatile Tool for the Synthesis of Bioactive Heterocycles
Dr. K. L. Ameta and Andrea Penoni
Publisher: CRC Press, Taylor and Francis, September 2014
ISBN 9781466594821
Content Level » PG and Research
Dr. K. L. Ameta: Assistant Professor, Faculty of Arts, Science and Commerce, Mody University of Science and Technology, Lakshmangarh-332311, India.
Dr. Andrea Penoni: Department of Science and High Technology, University of Insubria, Italy
Features
· Relates heterogeneous catalysis to the synthesis of bioactive heterocycles
· Presents new methodologies for the synthesis of bioactive heterocycles
· Explores the biological activities of bioactive heterocycles
· Covers novel heterogeneous catalytic approaches
Summary
For more than a century, bioactive heterocycles have formed one of the largest areas of research in organic chemistry. They are important from a biological and industrial point of view as well as to the understanding of life processes and efforts to improve the quality of life. Heterogeneous Catalysis: A Versatile Tool for the Synthesis of Bioactive Heterocycles highlights the recent methodologies used in the synthesis of such bioactive systems and focuses on the role of heterogeneous catalysis in the design and synthesis of various biologically active heterocyclic compounds of pharmacological interest.
Topics include:
· Synthetic protocols for the construction of heterocyclic systems employing silica-bound catalysts
· Recent advances in heterogeneous copper-catalyzed reactions for the synthesis of bioactive heterocycles
· Features of silica-based heterogeneous catalysts, such as abundance, ease of use, and stability
· Ultrasound as an effective tool for accelerating reactions
· Organic transformations catalyzed by nano-ZnO as a valuable heterogeneous catalyst
· Heterogeneous catalysts employed in the synthesis of coumarins
· Heterocyclizations in the presence of silver salts
· Home-made organometallic silica sources, known as silatranes
Reflecting the focused studies currently conducted in these areas, the book also examines anticancer, antifungal, antibacterial, anti-HIV, anti-inflammatory, antioxidant, and many more biological activities of heterocyclic compounds. It is essential reading for postgraduate and research scholars in the fields of biochemistry, chemical biology, medicinal chemistry and pharmaceutical chemistry.