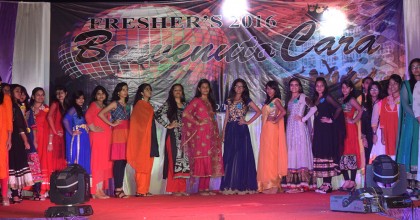 On the eve of 17th September, 2016, the second year students of the college of engineering and technology organized fresher's 2k16. Creating a stylish stir, pretty girls dressed in their best designs turned up in large number along with their loving seniors for Fresher's 2016. A photoshoot session preceded the event. During the Inaugural function, Dean, CET, Dr. V. K. Jain, highly appreciated the organization and team work put in by second year students and called upon senior students to guide their juniors. The President of the university Dr. Suresh Advani also addressed the gathering and felt nostalgic about his own college days.
The event consisted of an entertainment section and the miss fresher's pageant. Numerous dance performances full of energy and melodious singing sessions enthralled and mesmerized the audience. On the melodious notes of foot tapping music, students danced and rocked the stage.
The most awaited part of the evening was the miss fresher's pageant where Ms Kriti Jija was crowned Miss Fresher's 2k16, followed by Ms Apurva Gupta, Miss Dazzling and Ms Pratima Ratwani, Miss Alluring. The judges highly appreciated the contestants and enjoyed the pageant to the fullest. Afterwards a delicious dinner followed offering delicacies and was enjoyed by nearly 800 students, faculty and staff members. The coordinator student affair Mr. Nitin S. Baruaole and Mentor Mr. Atul Kumar were highly supportive throughout this journey.
Towards the concluding part of the event, everyone danced and rejoiced in happiness to the tunes and beats of the DJ – The Bass Band. Happening anchors, music, dance, and DJ, – the Fresher's Welcome "Benvenuto Cara" had it all!