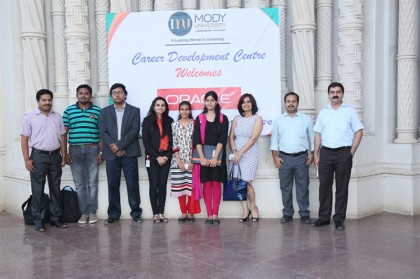 Once again the students of Mody University have come out with flying colours in the Campus Recruitment Drive of Oracle on 19th September, 2016. Two (02) students have been finally selected in the Campus Recruitment Drive of Oracle for their Technical Profile.
Oracle visited Mody University for the consecutive third year in a row to recruit Engineering Graduates from Mody University and after their rigorous multi-layered selection processthey were very happy to select two students from B. Tech. Programme of College of Engineering and Technology at a base package of Rs. 9.00 LPA (CTC comes around Rs. 12.00 LPA).
The HR Manager and the visiting recruitment team of the Company praised the quality of students and mentioned it asone of the best talent pool they have got in any Institution. According to them the quality of our students and their communication skills are at par with those of the premier Institutions of India.
Many more companies are in pipe-line to visit Mody University for Campus Recruitment Process in the near future for Undergraduate and Post-graduate students.
Prof. (Dr.) Suresh Advani Hon'ble President, Mody University, Prof (Dr.) V. K. Jain Dean, College of Engineering & Technology and the Team CDC, including Mr. Sudhanshu K Sinha, Mr. Hitesh Jangir, Mr. Nandan Kumar, Ms. Asha Acharya and Mr. Biju Gopinath congratulated the selected students of Mody University.
Students of Mody University have proved their worth again!