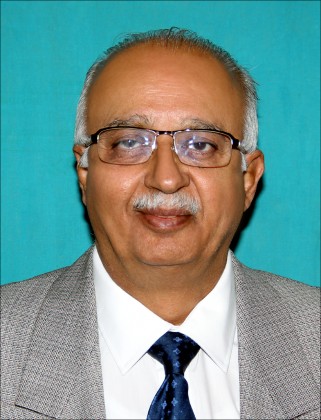 New Dean of Faculty of Management Studies
I am pleased to announce the appointment of new Dean of Faculty of Management Studies (FMS), Mr. Suresh Advani.  Mr. Advani will be moving to Mody University of Science and Technology from S. P. Jain Institute of Management and Research (SPJIMR), Mumbai on November 15, 2014 .
Mr. Advani has been serving SPJIMR since 2004 as the Professor of Operations Management and Project Management. At SPJIMR, he also served as the Chairperson of Centre for Family Managed Business. During this assignment, he streamlined the entire curriculum and pedagogy of the program apart from bringing in considerable rigor into the Role Plan and Business Plan Projects which form an essential component of the program. He was also actively involved in the globalization activities of SPJIMR in his recent role as Chairperson, International Operations. Mr. Advani had been assigned the added responsibility of spearheading the AACSB Accreditation process.
From 2004 to 2006, Mr. Advani played a key role in establishing the S. P. Jain Centre of Management (SPJCM) in Dubai and Singapore and subsequently taught at both of these locations for over 6 years. In addition, he led the Singapore Campus during 2008-2010 and obtained for SPJCM, accreditation from the Government of New South Wales, Australia for their BBA and Global Management Program.
Prior to joining Academics, Mr. Advani served in various capacities in industry.  For example, as Executive Director of Kishco Cutlery he successfully turned around the company to breakeven within 3 years by expanding the width and depth of the distribution network of its products. As President at Finoram Sheets Ltd, he was instrumental in setting up an Indo-Israeli joint venture project for manufacturing of PVC corrugated and flat/foam sheets. He achieved export levels equivalent to 50% of turnover and received recognition from the Director General of Foreign Trade (DGFT), Govt. of India.
Similarly, as the Director (Operations) at Span Overseas Ltd, he handled exports to various countries of diverse products like machine tools, garments, tea, coffee and sports goods. There, he also established a department for import and marketing of Newsprint, Wood Pulp and SBR/PVR Rubbers. Here too, he was a recipient of export awards from DGFT. In addition, as the Chief Executive Officer (CEO) of Electronica Machine Tools, he was directly responsible for increasing sales turnover by a record 500% with the company posting an after tax profit of 20% of Revenue. Mr. Advani was also instrumental in setting up the Amtrex Hitachi air conditioners factory – a green field project. Prior to this, he worked as Manager-Diversification at Blow Plast Ltd where he set up manufacturing facilities for a number of new products.
Mr. Advani received his B.Tech from IIT Mumbai and pursued Management Studies at Mumbai University.He has specialized in the areas of Operations Management and Project Management as well as developed expertise in Turnaround Management. His research interests encompass Globalisation of Higher Education and Issues related to Family Businesses. He will soonreceive his Ph.D. from IIT, Bombay. His approach to institution building and change management revolves around two basic management principles namely by energizing his team and acting as a facilitator. At the same time he motivates and challenges his team to perform to the highest level thus helping them to discover their own hidden potential and achieve excellence.