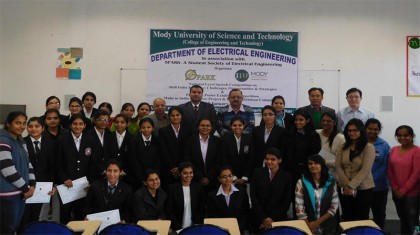 The Electrical Engineering Department of Mody University has organized two National Level Events "Project & Poster Exhibition Competition" on Make in India Initiative and "Speech competition on Skill India Initiative: Challenges, Opportunities & Strategies" on National Youth Day celebration, January 12, 2016.
Shri. L. N. Soni, District collector cum District Magistrate, Dist. Sikar (Raj.) inaugurated the events and appreciated the initiative and effort taken by the students of Electrical Engineering Department of Mody University, Laxmangarh. About 75 participants had participated in the competition and winners were awarded with cash prizes and certificate by Prof. J.V. Desai, Dean CET, Prof. M. K. Jha, Associate Dean, CET and Dr. Sudhir Y Kumar, HOD (EE). The function was attended by a huge number of students from different parts of the country and the event was a huge success. The proceeding of the day began with the lighting of lamp and Goddess Saraswati pooja.
The technical events were conducted in association with "Spark", a student Society of Electrical Engg under the guidance of the mentor Prof. Th. Paraskumar Singh. The objective of the event on Make in India was to create awareness among the youth of this country to promote the mission launched by our honorable Prime Minister Shri Narendra Modi for making India a manufacturing hub to create jobs for educated youth in diversified field. The event on skill India Initiative was also organized to make Indian youth self- reliant through different skills.