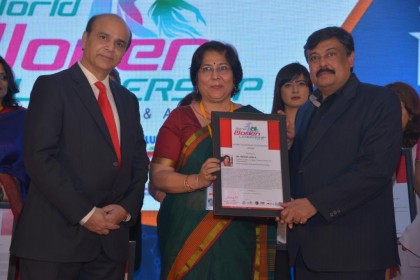 Dr. Meena Jhala, the Dean of College of Fashion Design and Merchandising (CFDM), Mody University, Rajasthan  received the 3rd World Women Leadership Congress & Award (WWLCA) (www.worldwomenleadershipcongeress.org)  which was held on 17th February, 2016 at TAJ Lands End ,Mumbai.
The award is conferred to the "Outstanding Women Professionals who have the vision ,flair ,acumen and professionalism to demonstrate their excellent leadership and management skills in an organisation /institutions or towards society at large ,this making changes and achieving results".
How ever the broad parameters are :
-Leadership
-Ethics
-Social Impact
-Charisma
-A visionary Approach
-Change- Agent
-Business Acumen
The jury member consists of senior leaders ,researchers and academicians, some prominent names are-
-Nina Woodard ,SPHR ,GPHR ,MBA, President Chief "N" Sights Officer ,Nina E Woodard & Associates ,USA.
-Dr Arun Arora ,Chairman ,eDvance Learning Systems (Ex-President-Bennett and Coleman and Co. Ltd.-Times of India)
-Michael Wong -Co-Founder ,Thought Leaders International
-Dr. Saugata Mitra ,Chief People Officer  & Group Head HR ,Mother Dairy Fruit & Vegetables Pvt Ltd.
-Dave Porter ,Global Chairman ,World Brand Congress
-Jonathan Peters ,Founder ,Starts of the Industry Group,
-Priti Vyas ,Chairwomen ,VGC ( Vyas Giannetti Creative)
-Dr. Harish Mehta ,Chairman and MD ,Onward Technologies and Limited and Founder Member  ,NASSCOM & Onward Foundation
-Andrew Kelly ,Chief Patron ,CMO Asia.