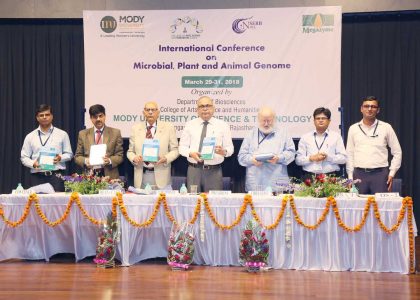 A three-day international conference on Microbial, Plant and Animal Genomes is being organised by Department of Bioscience, College of Arts, Science and Humanities ( CASH), Mody University at its university campus. The seminar is organised to give an opportunity to review the current status and future trends in areas like microbial, plant and animal genomes and suggest viable ways in adopting the latest development in international and national institutions. Started from 29 th March, the event provide an insight on recent development and future plans for animals, plants, microbiology, modern biology, environmental science, Nano-biotechnology and genome related topics.
Spread over three days, the conference is attended by more than 200 delegated from all over India and world with over 50 talks, key note addresses, open presentation and over 50 poster presentations from India, Switzerland, Bulgaria, Thailand etc.
Speaking at the inaugural ceremony, President-Mody University welcomed everyone at the conference and expressed his happiness to be present at the occasion. Dr Atul Kumar, Dean, CASH,
welcoming the chief guest of the conference, Prof. Klaus Ammann, an Emeritus Professor and former –Director of Botanical Garden at the University of Bern, Switzerland and guest of Honour Prof. S M Paul Khurana,the former Vice Chancellor of Rani Durgawati Vishwavidhyalaya, Jabalpur- a university prominently known for Agricultural education in India- said that it is his good fortunate to be among such star dignitaries.
Adding further, Dr Kumar said that the success of the first conference on Microbial, Plant and Animal Genomes held in 2012 gave the department much needed impetus to hold its second conference. The conference is sponsored by Science and Engineering Research Board (SERB) and Megazyme USA.