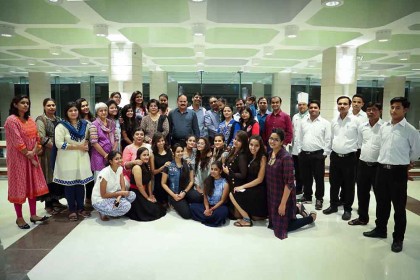 College of Fashion Design &Merchandising  is pleased to share the outcome of a wonder filled thematic 'fresher's engagement' event  'LA-NAIVE/fusion' it organized for its  new entrants.  Held at the 'grand' auditorium'Swami HaridasSabhaghar'  on the   29th&30th July 2016 for students who interestingly  come from diverse backgrounds in India as well as abroad the event was graced with the  erstwhile presence of  MUST President Prof.(Dr.)Suresh Advani, Dean CFDM Prof.(Dr.)Meena Jhala, MsVadanaMehra (CASH senior faculty) & Dr. Priyanka Jain (COBMEC senior faculty), MrDhananjay, GM (Tapovan), Col. Sharma ( GM H&S), MrRohitRastogi (AGM Admissions)  along with their family to view a spectacular and interactive performance based event that comprised of  1) An extremely enriching and entertaining  'State' Presentation made by the new students  from where they were able to introduce themselves  through highly informative  Ppts&  visuals  of  knowledge they shared with us about their home towns  2) Radio Jockey MsGinni from 95FM Tadka Radio who swept the audience with her gracious and charming personality through an interactive quiz, song, games and storyoriented participation and presentation  2) A  dazzling 'Fashion  walk by the new students  who charmed their way through  acquiring the  5 prestigious  titles,  namely  MsRohin Kaur (as Ms. Fresher), MsSaumya Singh (as Ms Beautiful), MsKritika Gupta (as Ms Presentable), MsDishiKulshreshta (as Ms Confident) &Ms Neha Bhalla (as Ms Feminine).
This was followed by an extremely enlightening , interactive and crisp presentation by Dean CFDM Dr Jhala who threw some light on time management, being proactive and professionalism as well as  faculty introductions. The highlight of the gala evening was  a highly energetic bunch of CFDM who rocked to the tunes of RJ album  shared by 95FM Tadka culminating in an extremely appetizing   dinner spread sumptuously enjoyed by all at the new cafeteria of MUST.
CFDM family loved the evening to the core!!!!