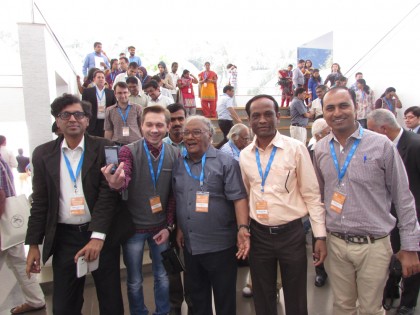 Prof. Amlan Kumar Das, from Faculty of Engineering and Technology (FET) of Mody University, was invited to participate in the Regional Conference of Young Scientists on "Nanoscience & Nanomaterials" which took place from February 18 to 20, 2015 at Jawaharlal Nehru Centre for Advanced and Scientific Research (JNCASR), Bangalore.
The World Academy of Science (TWAS) for the Advancement of Science in Developing Countries has one of its Regional offices for Central and South Asia at the JNCASR, Bangalore, India. The countries covered under this Region are: Afghanistan, Azerbaijan, Bangladesh, India, Iran, Kazakhastan, Kyrgyzstan, Maldives, Nepal, Pakistan, Sri Lanka, Tajikistan, Turkey, Turkmenistan, and Uzbekistan. The Regional Office of TWAS is engaged in programmes to identify eminent scientists in the region and nominate them for the TWAS Membership/Fellowship and other Awards; Promoting and furthering the TWAS activities in the region among Young and promising scientists and policy matters through organizing public lectures, discussion meeting.
There were as many as 80 participants from Central and South Asian countries like Bangladesh, Sri Lanka, Nepal, Iran, and Uzbekistan along with from various leading institutes of India. Prof. Das was representing Mody University in this prestigious meeting. The meeting was held under the auspices of Bharat Ratna Prof. C N R Rao. The participating faculties had the golden opportunities of interacting with Prof. Rao during this 3-day long meeting.
His air travel, and boarding & lodging were arranged by TWAS Regional offices for Central and South Asia (TWASROCASA), JNCASR.