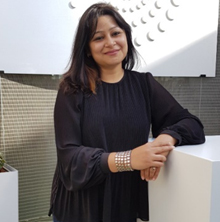 Ranjita Ghosh, Global Marketing Director – Telecommunications, 5G, Market & Competitive
Intelligence, has joined SMS Center for Women Leadership as Honorary Advisor.
Ranjita heads the global marketing and positioning strategy for the Telecommunications business
unit of Wipro and works on multiple organizational change initiatives. She is an official member
of Executive Women 50, a part of World 50, Inc.
As a marketing advisor to the company's CXOs, Ranjita plays a key role in Wipro's new-age
business transformation agenda that focuses on technology shifts, new paradigms of service
delivery, ecosystem partnerships and future skills. She is also responsible for the Market and
Competitive intelligence function. Previously, she was the brand manager for the Wipro
HOLMES™ AI & Automation platform, led marketing for Wipro Ventures, Topcoder, CTO
initiatives, and managed Analyst & Alliance Relations. Prior to marketing, she was a part of the
Business Development team for Wipro's Utilities vertical.
Ranjita would be supporting SMS faculty in widening the leadership perspective of SMS
students in the overall area of Industry 4.0 with special focus towards marketing, branding,
business development.