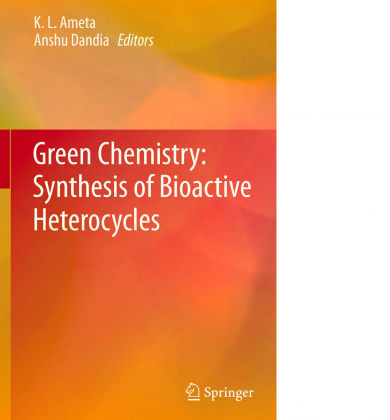 One of our Faculties of CASH, Dr. K.L Ameta has recently published a book called Green Chemistry: Synthesis of Bioactive Heterocycles with Dr. Anshu Dandia. This book has been published with the help of Springer, a well known publishing firm, in July 2014. Through his extensive research in green chemistry, Dr. Ameta has contributed in explaining how this concept is useful for the design and synthesis of medicinally important compounds.
Green Chemistry provides the reader with a succinct summary of various methods for biological activities and synthesis of a number of different-sized bioactive heterocycles. This is achieved with the help of green chemistry synthetic methodologies including ionic liquids, water mediated, ultrasonic and microwave.
Not only does this book explain the methodologies involved with green chemistry and the synthesis of biologically active heterocyclic compounds, but also discusses different applications of the various bioactive heterocycles. This makes it an extremely useful source of knowledge for green and medicinal chemists.
In a world increasingly concerned with protecting and preserving the environment, Green Chemistry will become the foundation for budding chemists in focusing on environment-friendly technology. Mody University proudly congratulates Dr. Ameta for his hard work and research that has culminated in a book that will inspire thousands of chemistry enthusiasts and make the world a better place with its green innovative ideas.
To know more about this book, click here http://www.springer.com/chemistry/organic+chemistry/book/978-81-322-1849-4