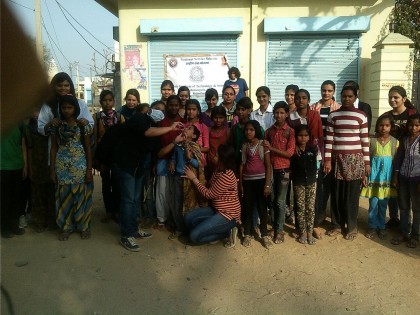 Launched in the year 1969, Gandhiji's Birth Centenary Year – National Service Scheme, widely known as NSS is truly one of the most significant initiatives of the Indian Government towards Community Service, and this is primarily because of the voluntary involvement of youth from Colleges and Universities across India. Each generation passes on the rein of this society to its progeny – ones that are comparatively young in years and still in training to face this ever-changing world. It is always our desire to hand over the responsibility of our Nation to a generation, healthy not only in body but sound in mind and committed to the welfare of our country and society. This is a necessity, which can't be compromised. NSS aims at fulfilling this need by inculcating the virtue of service in students at a tender age, so that it becomes a part of their character.
Mody University has incessantly aimed at the all-round development of girls. It is our aim to strive for professional excellence in our students, while ensuring they become ideal citizens of the society. NSS team at Mody University has always embraced philanthropy and actively crafted and participated in several such initiatives with remarkable zeal and vision. A woman can nurture and can also become a highly energetic and ferocious lioness for her family. NSS students at Mody University, standing for the NSS motto "NOT ME,BUT YOU", treat and serve our society as their family, without bias.
NSS volunteers of Mody University conducted a three-days camp in the nearby village of Narodara from 19 to 21 February, 2015. On the first day, 32 students from the Faculty of Arts Science and Commerce visited the village and keeping the current scenario in mind, chose to disseminate the knowledge about SWINE FLU to the villagers in order to ensure they are able to prevent further spread of the H1N1 virus, which has claimed more than 800 lives across the country so far with most deaths recorded in the States of Rajasthan and Gujarat. The students not only empowered the body by vaccination but also spread the knowledge via a passionate nukkadnatak.
On the second day, 60 students from the Faculty of Engineering and Technology participated in the Swatch Bharat Abhiyaan campaign, spreading the awareness about the hygiene and everyday health hazards. On the third and final day of this camp,15 students from the Faculty of Law created awareness among villagers on the issue of legal literacy. The students caught the attention of the gathering conducting a bilateral dialogical discourse. The awareness SKIT was the most entertaining and thought-provoking event of the whole camp.
Post the completion of the camp, students are filled with joyous radiance and increased fervor to do more for our society in the coming days. We, at Mody Universitystand proud and wait to glimpse such future unfold!