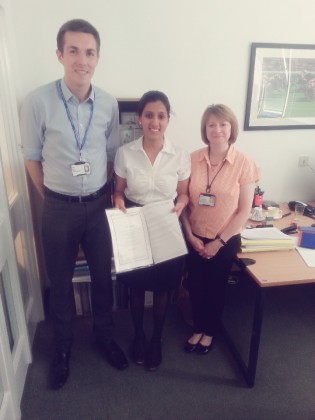 Srishti Agarwal, student of B.B.A.LL.B. IVth year in College of Law and Governance has done her Internship during Summers, this year from 15/06/15 to 26/06/15 in Medico Legal Department of Cambridge University, UK as a part of coursecurriculum. Her work was based on study pattern practiced in Englandand she worked on practical problems which involved extensive reading, analytical thinking and research on topics like medical negligence, inquest, commercial project, copy right etc.
Sheattended conferences in Cambridge Londonand also got a chance to visit Royal Courts of Justice.Along with this, she also got an opportunity to attend a workshop in University of Cambridge.
On completion of her internship she received a certificate mentioning her as the brightest student they have ever had and was awarded the highest grade A*. Her work, sincerity and approach was well appreciatedby them and she got an incredible work experience and overwhelming feedback for both her work and conduct.
The Dean and Faculty members congratulated her for this achievement and wish her a good luck for future.